Serena Geddes, Rosie and Rasmus, Simon & Schuster, May 2019, 48pp., RRP $22.99 (hbk), ISBN 9781481498746
Serena Geddes, Where the Dragons Live, Simon & Schuster, September 2020, 48pp., RRP $22.99 (hbk), ISBN 9781481498760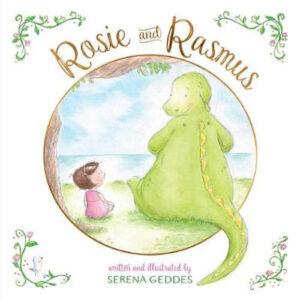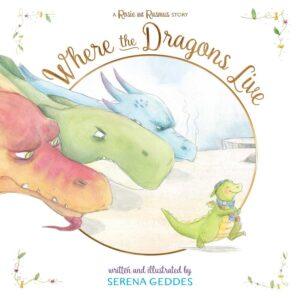 Rosie and Rasmus is a charming story about unexpected friendship and what being a good friend looks like. It is perfectly suited to the early childhood years, probably the 2-6 years age range, though my 8-year-old voiced her approval after just one read. 
A young girl named Rosie lives in a village seemingly quaint and unremarkable. Upon venturing out of the village she is approached by Rasmus, a dragon, with a token of friendship and the two of them begin to teach each other about their worlds. Rasmus is particularly devoted to the idea of flight, something he thinks a dragon should be able to do, but he can't. 
Rosie shows just what a great friend she is by spending time thinking up and carrying out plans to help Rasmus fly. Rasmus does learn to fly, and this forces Rosie to face one unpleasant part of friendship: separation. The ending is just delightful as we see that Rosie learned much from her brief friendship with Rasmus as she reaches out in friendship to someone else.
The attractive and wholesome illustrations are slightly muted, with Rosie and Rasmus in the boldest colours, pink and green respectively. One thing that makes this story so successful is the restraint used with the text. The words are just enough, in fact, several pages are text-free allowing the readers to fill in the blanks themselves or to discuss the story told in the illustrations. 
Fortunately for those who find Rosie and Rasmus' separation too sad, there is a sequel to their story where they are reunited. Where the Dragons Live allows the reader to follow Rasmus on his flight to a new land, a land with other dragons. He soon learns the lesson that just because someone looks like you, it doesn't guarantee they will like you. He then learns an even more important lesson: we shouldn't change ourselves to make new friends. We need to stay true to who we are and that will attract the right type of friend. 
These two endearing and enchanting books do a fantastic job of helping the reader learn about friendship in a less pedagogical and directive manner. The stories are affecting and allow young children to absorb the message of true, strong friendship without realising they are being taught.
Reviewed by Cherie Bell