Phillip Walleystack & Raewyn Caisley (text) and Dub Leffler (illustrator), Rocky and Louie, Puffin Books, April 2020, 32 pp., RRP $24.99 (hbk), ISBN 9780143786528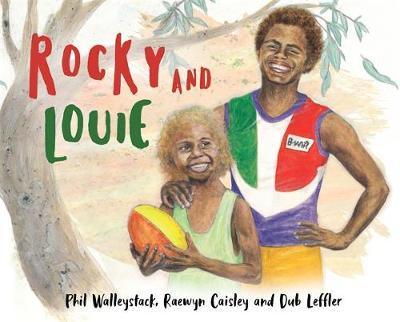 Louie and his big brother Rocky have a special relationship. Rocky teaches Louie about kicking goals in footy, looking after country, and their profound connection to culture. But Rocky has big dreams and has to move away to chase them, so how can Louie show him how much he will miss him? Raewyn Caisley and Phil Walleystack have collaborated with illustrator Dub Leffler to produce a gentle, warm story of brotherly love. As readers we are not only presented with the brothers' relationship but also with a portrait of Aboriginal connection to Country and their expression of culture. We learn about fire management, creating boomerangs, and hunting practices.   
Caisley and Walleystack's language use is both succinct and expressive, creating many lasting images with their thoughtful metaphors. The new shoot growing in the ground is just like Louie, the flat cool rock is a mother's chest, and the boomerang that Louie carefully crafts for Rocky, is a symbol of Rocky's eventual return to his country.
Leffler's illustrations are warm and animated, broad smiling faces, athletic limbs, and the earthy colours of the country. He balances illustrations that focus on the characters on a white background, and those with more detail to create a strong sense of the wider setting.
Teachers and parents could use Rocky and Louie to inspire conversations about family, siblings and growing up, as well as Aboriginal people's connection to country and culture. It could also be used to discuss metaphor, symbolism, and personification in written language. Teaching notes are available for further resources.
Reviewed by Madeleine Crofts