Blake Chapman (text) and Astred Hicks (illustrator), Ocean Animals, CSIRO Publishing, June 2020, 144 pp., RRP $29.99 (pbk), ISBN 9781486311415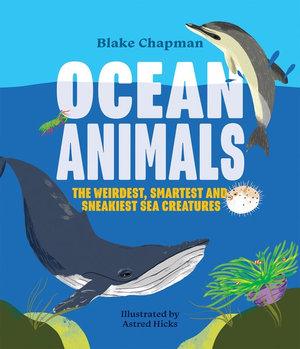 Who amongst us didn't at one point want to be a marine biologist when they grew up? Sea creatures have long fascinated students, from terrifying angler-fish to the weird and wonderful octopus. And now, given the precarious position many of these creatures and the oceans themselves are in, it seems more important than ever that children learn about and appreciate ocean animals.
Chapman has created a thorough and engaging resource that will attract children of all ages. It has been carefully organised into chapters based on the features and skills of different kinds of ocean creatures, interspersed with 'sea-lebrity' species profiles. In her writing, Chapman has struck the all-important balance between being fun and engaging, while also being scientific and educational. The many striking photographs help to highlight the truly astonishing beauty and weirdness of these creatures, while the cartoon diagrams clearly explain some tricky concepts.  
This book would be an excellent resource for older primary or junior secondary students wanting to research ocean animals, while younger students will love this as a read-aloud with teachers or parents. It's one that could be dipped into time and time again, such is its depth of information about our riveting oceans and their inhabitants. The chapter on activism is a positive inclusion, detailing how young people can support the health and wellbeing of the ocean.
Reviewed by Madeleine Crofts