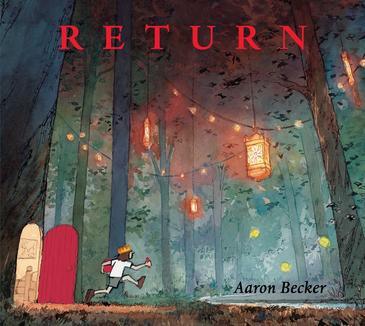 Aaron Becker,  Return,  Walker Books,  1 August 2016, 40pp.,  $27.99 (hbk), ISBN 9781406368437
This book marks a satisfying finale to the wordless Caldecott Honor award-winning trilogy (Journey and Quest). A girl's red crayon draws her (literally) out of loneliness and into adventure. Dad follows his daughter back to her imaginary kingdom. But an invader comes who tries to capture the magic. Father and daughter escape and take turns to save each other. Finding themselves in an underwater cave, a page spread of truly stunning intricacy shows that danger was foretold in petroglyph and supplies dad with an answer. The last page floods their real world in colour and leaves the formerly over-busy house in the shade as our heroine achieves what she sought all along, to spend time with her dad. Beautiful and clever orchestration of tone, composition and colour create a classic graphic novel for the under eights that will demand many re-readings.  Suitable for over 5's.
Reviewed by Liz Anelli
Watch the book trailer for Return. Buy the three book bundle from Booktopia.