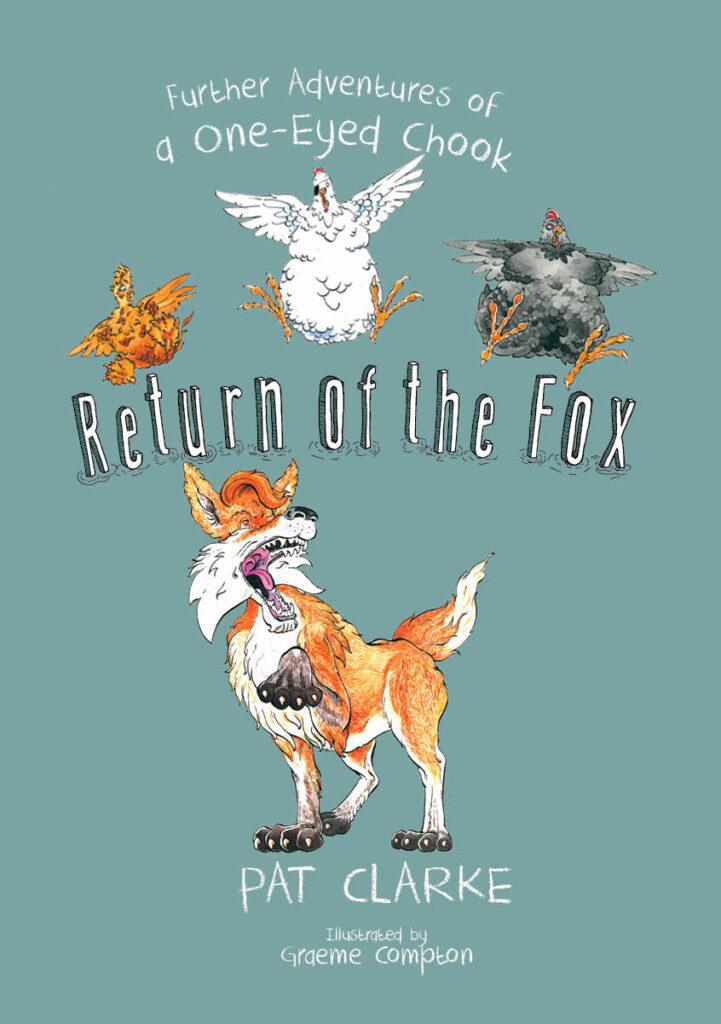 Pat Clarke (text), Graeme Compton (illus.), Return of the Fox: further adventures of a one-eyed chook, Little Steps Publishing,  1 Dec 2015, 74pp., $24.95 (hbk), ISBN 9781925117585
This third book in the series is one of both heartwarming and heart wrenching moments, courage, wit and suspense. Dealing with some advanced social and environmental issues, Return of the Fox is nevertheless an engaging and charming story.
With twenty brightly illustrated chapters, the tale tells of the friendship, bravery, loyalty and adversity of a range of colourful characters. Sheila, the one-eyed chook and her mate Elvis, the wedge-tailed eagle have been living joyously in Goonoo Forest since the downfall of Rufus the fox the year before. But when Elvis is struck down by the gunshot of some car thieving bandits, the fight for survival becomes their greatest challenge, in more ways than one. Sheila is also hurt, and it is the support of the creatures banding together, and the generosity of an old woman who help get these birds back on their feet and free from the danger that is the cunning fox. Safe and home at last, the happy couple leave us with a wonderful feeling of triumph and heavenly bliss.
Author Pat Clarke doesn't hold back. Addressing sophisticated concepts like theft, arson, psychological trauma, death and extinction, her language is visual and intense. She has also incorporated clear morals, such as "…take the bad along with the good. Tomorrow is another day…" The illustrations by Graeme Compton equally reflect the intricacy and energy of the story with his watercolour and line work standing out vividly from their white backgrounds.
Return of the Fox has a wonderful Australiana flavour and many aspects of the text will lend themselves to constructive discussion among readers. This book is gripping and fluid enough for a pleasurable and rewarding read-aloud experience for children in all primary grades.