Elizabeth Mary Cummings (text) and Cheri Hughes (illustrator), Rain Shaker, Big Sky Publishing, October 2020, 32pp., RRP $14.99 (pbk), ISBN 9781922387165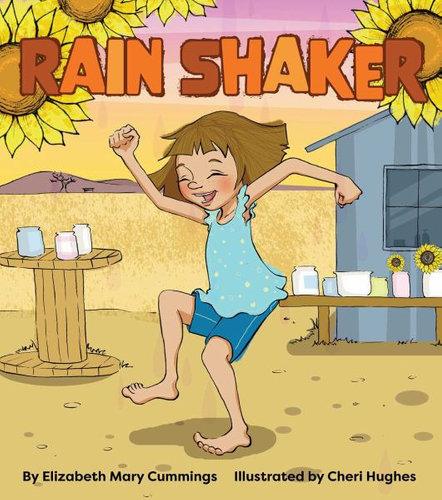 More and more environment-themed children's books are popping up for reasons that, by now, should be self-evident. In this latest offering, titled Rain Shaker, an imaginative and determined young girl named Erin wants to grow sunflowers despite the severe drought. The dry, dusty environment, particularly relevant in Australia, is captured evocatively in the opening pages:
Dad pulls into the driveway. Sun dazzling on metal.
Heat rising, steaming, shimmering, blinding.
The birds too thirsty to sing.
The cattle too hot in the shade.
The need to decorate the Christmas tree precipitates action, though not in a material sense, and here the style shifts from poetic to more literal language. A snow globe shakes Erin's imagination and before long, the first drops of rain fall. Later that night, Erin dreams of abundant water where people, plants and animals thrive.
There is lovely energy in the illustrations from Cheri Hughes, particularly in Erin's vivid dream sequence. Fun facts on sunflowers at the back of the book, and instructions for how to grow them, support this hopeful story and will appeal to children.
Tackling big ideas in a picture book is always a challenge. Exploring climate and family life themes, Rain Shaker offers a wonderful opportunity to engage children on issues that matter to all of us, though more unified themes and style would have arguably strengthened the narrative and its underlying messages.
Reviewed by Maura Pierlot