Sofie Laguna was announced as the winner of the 2015 Miles Franklin Award, worth $60 000, with her novel for adults The Eye of the Sheep (Allen & Unwin).
The Sydney Morning Herald, in reporting this win stated that winning literary prizes makes a difference to an author's 'purse and profile'. However, this article did not mention the CBCA Book of the Year Awards. They may not be the richest awards in Australia but they have had a profound influence on the careers of countless authors, including Sofie Laguna.  Sonya Hartnett was shortlisted for the Miles Franklin and won the Astrid Lindgren Award, worth $750 000, and Shaun Tan (another Astrid Lindgren Award winner).
Sofie Laguna is well known in children's books circles for her books for children, many of which have featured in the CBCA Book of the Year Awards. These include: My Yellow Blanky (CBCA Notable 2002), Too Loud Lilly (CBCA Honour Book 2003), Bad Buster (CBCA Notable 2004), Big Ned's Bushwalk (CBCA Notable 2006), Bird and Sugar Boy (CBCA Honour Book 2007), Stephen's Music (CBCA Notable 2008), Where are you Banana? (CBCA Notable 2014).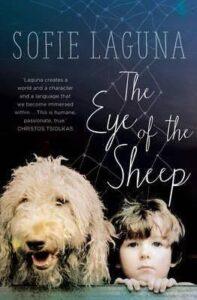 The Eye of the Sheep is Sophie's second novel for adults. It is based on a play she wrote fifteen years ago and produced by the Playbox Theatre-in-the-raw Readings and ABC Radio National. One of the five judges, Richard Neville, Mitchell Librarian at the State Library of NSW, said: 'the power of Laguna's finely crafted and visual novel lay in the "raw, high-energy and coruscating language" she used to describe the world through the eyes of young Jimmy Flick, whose loving family is shattered by alcoholism, violence and illness'.
Congratulations Sophie Laguna, from the Children's Book Council of Australia!
Margaret Hamilton AM