Samantha Wheeler (text) and Shannon Horsfall (illustrator), Once I Munched a Mango, State Library Queensland, December 2020, 32pp., RRP $24.95 (hbk), ISBN 9781922467249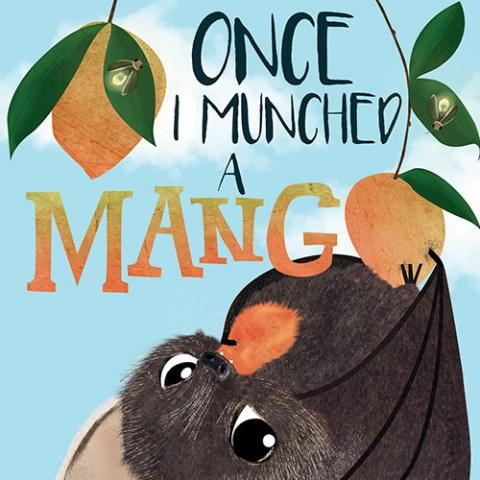 Once, I Munched a Mango is a great bedtime book for very young children. It is mostly soft and quiet (except for the page with the snake) providing families with a space to wind down as covers get tucked in. The frequent depictions of fireflies and butterflies give the book a dreamlike feeling.
The story is told by a young fruit bat who, along with the fruit it eats and the creatures it meets, become the focal points of each page. Readers will see strawberries and lychees, turtles, and dugongs to highlight a few. The author, Samantha Wheeler, is introducing children to some common and less common fruits and fauna in rhyming prose that is simple enough for young ones but with some slightly more sophisticated vocabulary to stretch their minds.
Shannon Horsfall has created illustrations that deliver a very 'baby-like' vibe for the book: the creatures have oversized eyes and innocent expressions. Plus, the overall colours and tones of the book are very much the blues, greens and browns of nature. One aspect that is particularly good for very young children is that the illustrations are not busy or complicated. There is no real need for little ones to be able to 'read' the images to follow a plotline.
Every couple of pages the questions is posed to the reader: "Can you guess the place I live, the land I love to roam?" Spoiler alert: it's Queensland. Which shouldn't be a surprise given this book was created for the First 5 Forever series for little Queenslanders. So, for families with a Queensland background or connection, this is a lovely one to consider for pre-schoolers.
Reviewed by Cherie Bell