Sue Saliba (text) and Ann Shenfield (illustrator), once, at the edge of the sea, self-published, May 2021, pp.166, RRP $19.99 (pbk), ISBN 9780648919001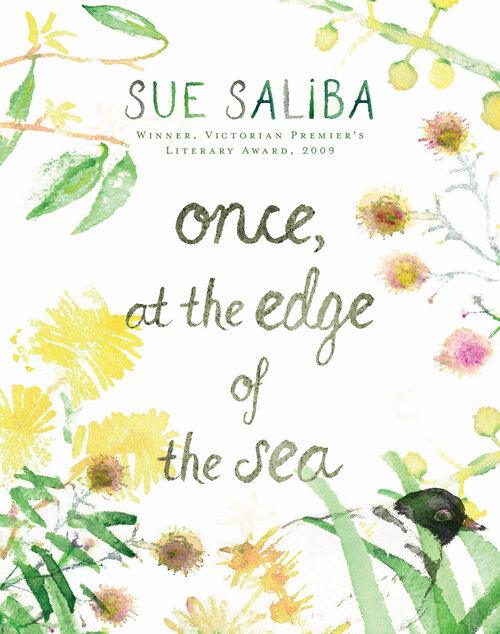 once, at the edge of the sea by Sue Saliba is the extraordinary story of fifteen-year-old Alice who leaves her wild Phillip Island home to live in Melbourne. Alice grapples in storming emotions. New friendships and relationships rise and fall like a great tide. Alice's struggle becomes how to traverse this without eroding her own sense of identity. Entangled with Alice is her connection to the fragile life of endangered shorebirds, Hooded Plovers, on the beaches of her island home.
once, at the edge of the sea is Saliba's first self-published book. The text unfolds in short lines of lower-case prose, in a poetic form. This narrative technique has echoes of Saliba's Something in the World Called Love which won the 2009 Victorian Premier's Literary Award for Young Adult Fiction. Although this form may challenge some readers, as a literary technique, it creates a raw intimacy of being in Alice's inner world. Words and memories of her old island home, flow effortlessly into the edges of her new city life within the prose.
The title pays homage to marine biologist and conservationist Rachel Carson's, The Edge of the Sea with her observations of the beauty and fragility of tidal environments. Nature is a strong recurring theme in Saliba's writing, influenced by her own life on Philip Island, and involvement in protecting shorebirds. Saliba's other books, For the Forest of the Bird was a 2016 CBCA Notables for older readers and Alaska was shortlisted for the Prime Minister's Literary Award for Young Adult Fiction in 2012.
once, at the edge of the sea is full of gentle, astonishing moments, delving into how we experience our sense of self within the world around us. Delicate watercolour art by Ann Shenfield fringes the text and adorns the outer and inner covers. This would be a wonderful gift book for young adult readers, especially for any nature lovers.
Reviewed by Angela Brown
Find out more about once at the edge of the sea in an interview with the author, Sue Saliba.