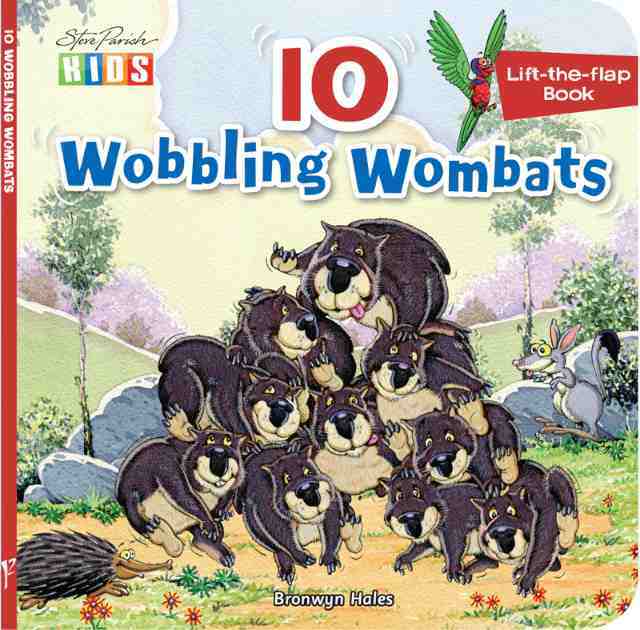 HALES, Bronwyn (text) Paul Lennon (illus.) 10 Wombling Wombats Pascal Press (Steve Parish KIDS), 2013 lift-the-flap $9.95 ISBN 9781922123855 SCIS 1655335
10 Wombling Wombats follows the usual structure of a countdown book, with added 'lift the flaps' to extend the illustrations and reveal the next number in the countdown.  The rhyming language is pleasing, alliteration is used to nice effect, and the tone is perfect for a toddler.  The illustrations by Paul Lennon have a fun comic feel, and are colourful and cheerful.  All the animals are Australian and include a few less typically used natives, such as the dugong and the lorikeet.  My toddler picked this book up immediately after my first reading to enjoy the countdown again herself and examine the illustrations more closely in her own time.
reviewed by Angie Holst
MENZEL, Danny (illus.) Greg W. Patten (text) Wombi's Day Out Wombi Adventures P/L, 2013 unpaged $25.00 ISBN 9780975027721
Wombi's Day Out describes the day in the life of this industrious wombat as he digs a new burrow, eats grass, meets his friends Katie the Kangaroo and Eddie the Echidna and retires again to wait for a new day.  This informative picture book aims to educate readers on the habits and characteristics of our native animals.  The language is straight forward and would suit older readers due to the longer passages of text on each page.  The illustrations are the stand out of this picture book: the sepia tone of Wombi's morning, which merges into the deep blue colours of his nocturnal activities, gave the illustrations a lustrous feel and the animals are portrayed beautifully.  The double page illustrating Wombi's technique in digging his burrow will be delightful for all readers.  This would be an especially lovely gift for a non-Australian child.
reviewed by Angie Holst