Mark Gravas, Noodle Bear, Walker Books Australia, August 2019, 32 pp,. RRP $26.99 (hbk), ISBN 9781760651022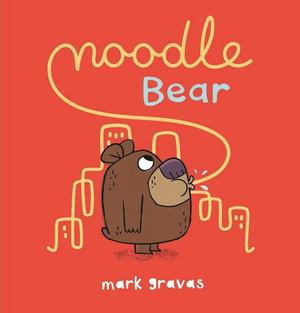 My first praise for this book is the striking front cover (my husband commented on it as soon as he saw the book). The bold orange-red with three different, but very cool, fonts and a skyline silhouette created out of noodles demands the book be picked up.
This bold, fun and engaging style is carried through the entire book, giving the characters an immediately comic vibe. We meet Fox, and Bear's other friends, enjoying the first party of spring. Noticing Bear is absent, Fox goes looking and finds that Bear has spent the winter the way many of us would dream of, watching TV and snacking on comfort food. Because of this Bear finds he has had a major 'snack-cident': He finished all the noodles in the surrounding area.
So begins Bear's search for more food. Finding nothing to his taste in the woods, he travels to the big city and finds everything he could ever want. Only bear comes to realise that fame and noodles are not the only things he really wants.
The story is similar to well-known tales such as Thelma the Unicorn or The Bear and the Piano. So while adults might find this storyline predictable and familiar, to a young child (the intended audience) it will be a very amusing and unique adventure.
I recommend you cook up a sodium-rich meal of instant noodles and have a fun lunchtime read aloud with this one.
Reviewed by Cherie Bell