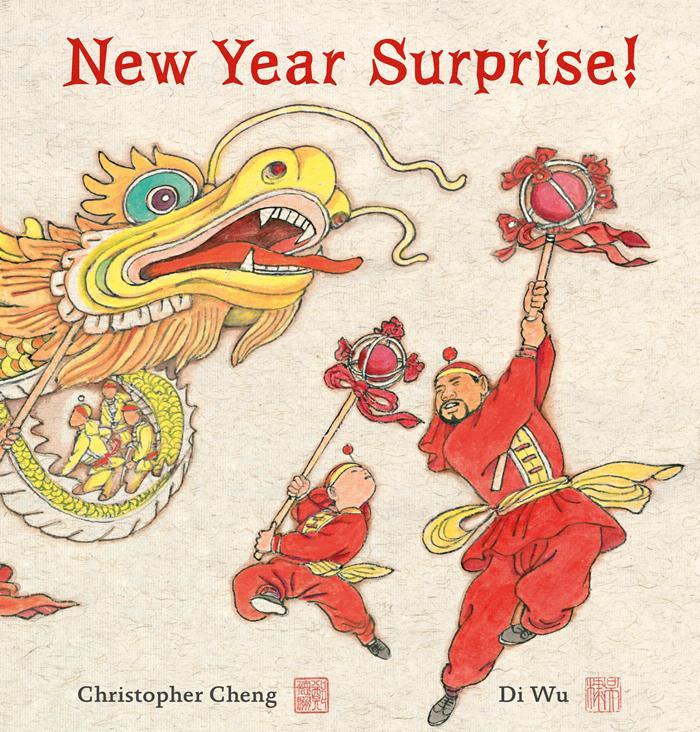 Christopher Cheng (text),  Di Wu (illus.),  New Year Surprise!,  National Library of Australia Publishing,  1 Feb 2016, 40pp.,  $24.99 (hbk),  ISBN 9780642278838
In a rural village in northern China, everyone is preparing for Chinese New Year.  One little boy in the village is particularly excited.  His father has told him that there will be a special job for him on New Year's Day. But this little boy has no idea what the job might be so he sets out to find out if his extensive family might have a job for him.  After a lot of enquiry, his father gives him the best job of all.
In this beautiful book, we are taken on a gently unfolding journey into the delights of Chinese New Year by a little boy who is keen to be part of the activity.  Every page reveals a different aspect of the New Year's Day preparations through accessible language and vibrant engaging illustrations.  There is plenty to see on each page, and therefore plenty to talk about within the reading.
New Year Surprise! is a delightful read-out-loud picture book for 3 to 6 year olds as well as a cuddle-up-in-the-armchair book for mid-range independent readers. The combination of award winning Christopher Chen's text and the beautiful illustrations of Di Wu has created a colourful and enjoyable insight into an important Chinese tradition.  The story contains a lot of factual information and there are additional notes at the end of the book for further discussion or classroom projects. Teachers' Notes are available on the NLA Publishing website.
This is a book to read many times over and certainly at every Chinese New Year.
Reviewed by Jennifer Mors