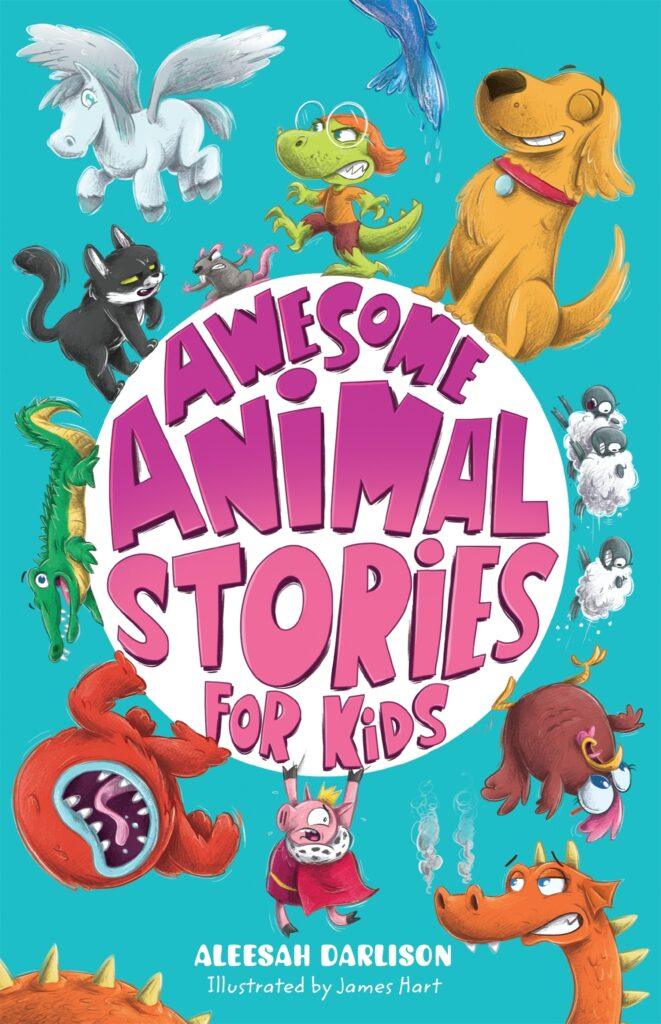 Aleesah Darlison (text), James Hart (illus.), Awesome Animal Stories for Kids, Random House Australia,  1 Dec 2015, 178pp.,  $14.99 (pbk), ISBN 9780857989680
Everyone loves an animal story, especially young children, and even more so when there is an element of fun.  Awesome Animal Stories for Kids is a book full of the adventures and misadventures of numerous imaginary critters and real-life family pets.
Within the thirteen stand-alone stories, the animals – domesticated as well as 'other worldly' – come to life.  Some stories focus on the everyday of animals and the families who love and care for their pets.  This is where we meet such quirky characters as Nigel the Crazy Croc and help solve the dilemma of a very needy Magpie.  Other stories spark the imagination as they take the reader into fantasy realms such as King Pig of Pigdonia's Pig-napping adventures and the drama of Dino-Girl.  There is even a call for pet advice from outer space.
Awesome Animal Stories for Kids by Aleesah Darlison is a light-hearted introduction for young readers into the world of 'chapter books' – an educational milestone that brings a real sense of achievement. Again, James Hart's brilliantly funny illustrations, also featured in Super Sports Stories for Kids by Patrick Loughlin, are a wonderful addition to these fun-filled animal antics and certainly add entertainment value to the stories.  While I felt some of the stories were unresolved and overly complicated, young readers will respond to the light-hearted tone as well as the familiar and not-so-familiar animals in each of the stories.
Reviewed by Jennifer Mors