Matthew Barker (text) and Hannah Kraschnefski (illustrator), My Parents Bought a Caravan, January 2020, 32 pp., $22.95 (pbk), ISBN 9780648742708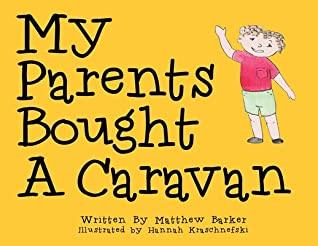 Matthew Barker tells in rhyme the story of his family's trip around Australia, written from the perspective of his son Harrison, in the year before Harrison started school. It's entertaining with wry perceptions of his parents' foibles, in the way that a child can do, and the adventures they all got up to. All readers will understand and empathise with such things as the car breaking down, a broken windscreen from a flying stone, carsickness and the leaking caravan roof. When in Tasmania, Dad broke his leg and was advised to have 6 weeks in bed! Mum and Dad caught the flu and the children revelled in their freedom.  They dealt with an infestation of spiders and ants. The strong message which comes through is that the whole family's resilience allowed them to thrive. 
The book feels a little flimsy and would benefit from having coloured endpapers. Some of Hannah's quirky animals could have been used there. It would also have benefited from having a map included so the family's route could be followed, and this would broaden the book's application in the school environment. I'd like to see all the publication details at the back of the book, rather than being the first text page. But those are relatively small criticisms but small things which impact the overall impression.
Recommended as a fun story describing a journey around Australia. 
Reviewed by Maureen Mann