Penny Harrison (text) and Katie Wilson (illustrator), Extraordinary!, New Frontier Publishing, February 2020, 32 pp., $24.99 (hbk), ISBN 9781925594911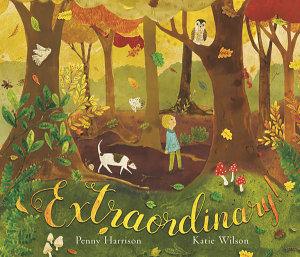 This gorgeous picture book has been lovingly crafted by writer Penny Harrison and illustrator Katie Wilson. Penny has written a thoughtful and thought-provoking story that is perfectly complemented by Katie's illustrative style of sweetly drawn images that include hidden delights. Extraordinary! is an amazing story that encourages readers to appreciate both the ordinary and the extraordinary, but also to see the ordinary as extraordinary.
From the gold foil highlights on the front cover to the whimsical illustrations, the rhyming text and the beautiful story, this story is bound to become a firm favourite for children, parents and carers, educators and librarians.
As parents we may feel pressured to buy our children the latest toys and gadgets or once in a lifetime trips and experiences. These expectations can be exhausting and unrealistic and leave us feeling like we are failing. This simple story is the perfect antidote, offering gentle encouragement to "seek the soft, quiet moment that makes the world sing". To slow down, patiently look and listen, and find the extraordinary in the ordinary.
I would highly recommend this book to lovers of beautiful picture books, young readers (aged 3-9), parents and carers, educators and anyone who needs a timely reminder to slow down and enjoy the simple things in life.
Reviewed by Anne Varnes