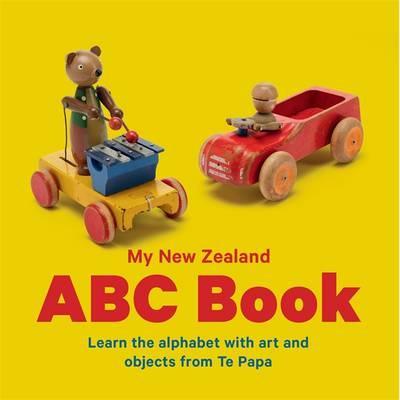 Museum of New Zealand Te Papa Tongarewa. My New Zealand ABC Book. Te Papa Press,  November 2014,  38pp., $AU39.99/$NZ19.99 (hbk) ISBN 978-0-9876688-8-2;
My New Zealand 123 Book 40pp., ISBN 978-0-9876688-7-5;
My New Zealand Colours Book 40pp., ISBN 978-0-987-6688-9-9
Using artworks and artefacts that have been gathered over the years by the Museum of New Zealand, close consultation between the museum's curators and educators, design by Massey University's design studio Open Lab, make these board books truly innovative and likely to be quite provocative for younger learners. They were pre-tested with young children in the design process and changes made so that visual and verbal literacy is enhanced. Each page (both single and double page) contains a rhyming text that contains questions, statements and invitations inviting a response form the young reader.
The depicted objects include iconic paintings, traditional toys, ceramics, sculptures, photographs and everyday objects that have artistic value. The counting book and the colours book also are bi-lingual (inclusive of Māori language Te Reo with a pronunciation guide) and in all books, bi-cultural phenomena (practices like the hongi, as well as native designs and materials) are included. At the back of each board book each represented item is detailed including the date of acquisition.
The value of these boardbooks is not only intrinsic (the joy of parents and their children jointly discovering the past in the process of reading aloud and sharing learning) but also extrinsic. It breaks down any mental image of the museum as an irrelevant "other" and invites families to come into Te Papa and share our common as well as unique heritages. Recommended.
reviewed by John McKenzie