Sue Whiting (text) and Annie White (illustrations), Good Question: A Tale Told Backwards, Walker Books Australia, May 2020, 32 pp., RRP $24.99 (hbk), ISBN 9781760650841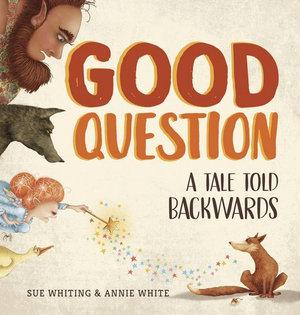 Fox has a dilemma…
He is hungry, and in his effort to fill his belly keeps stumbling into the wrong story.
Encountering some of the most well-known fairytale and nursery rhyme characters, poor Fox finds adventure after adventure, but he cannot seem to find something to eat!
Will he find his meal, and more importantly will we finally know why the sky was falling in Henny Penny?
Sue Whiting cleverly reveals Fox's plight, combining favourite characters and stories from Jack and the Beanstalk to Henny Penny, not to mention a fun theory about why poor Henny Penny thought the sky was falling!
Fun and quirky, the story reignites our love for some of our favourite folk and fairytale characters. Fox is endearing even while hunting for his next meal, and really makes you cheer for him to find the RIGHT story. Teaching us the value of persistence and finding your place is a wonderful theme throughout the book.
Annie White's playful and imaginative illustrations pair perfectly with this action-packed tale told backwards, making for a very entertaining read with children.
This is a fantastic picture book, on its own, and for all the other wonderful stories you find in it along the way.
Reviewed by Shelley Stephens
Read Shelley's Q&A with Sue Whiting and Annie White here