Nick Forshaw (text) and William Exley (illustration), Mammals!, What On Earth Publishing, August 2019, 46pp., RRP $22.99 (hbk), ISBN 9780995576629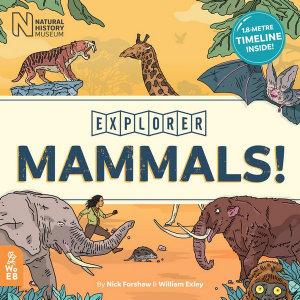 Part of the Explorer series, the explorer of Mammals, Agent Osprey, Senior Librarian at the Eagle-Eyed Explorer Club, is asked to 'venture into the unknown' and report on our cousins. That is just what she does. She tells us what a mammal is, their history, where and how they live and what they are like today. There is also a chapter on us.
The book is illustrated with pictures on every page, with an occasionally striking page of text and scene such as page 8, where panda, wolf, bat, whale and platypus rest with each other. It was written in partnership with the British Natural History Museum, ensuring authenticity in its text, and there are more than 100 mammals featured. As a great bonus, at the end of the book there is an eight page, 1.8 metre fold-out timeline which would grace any wall.
Reviewed by Stella Lees