Norma MacDonald, Lucky and Spike, Magabala Books, February 2019, 32 pp., RRP $17.99 (pbk), ISBN 9781921248177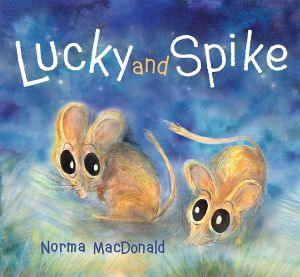 MacDonald is a painter, sculptor, printer and community artist who is of Yamitji and Nyungar heritage. Her artwork is in collections of Art Gallery of Western Australia and National Gallery of Australia. Much of her work is informed by Australian Aboriginal history.
Readers first met Lucky in Spinifex Mouse (2017). Here he is joined by his brother Spike as they leave their burrow early in the evening  to forage for the seeds left by the women grinding seeds for flour. A feral cat disturbs them but it is chased away by a camp dog. Then a barking owl threatens them only to be chased away by the feral cat. What is next for the two mice?
This simple tale highlights the impact of feral cats on the environment and MacDonald herself gives a brief note about this at the end of the book. It works well as a children's story with a simple text well placed on the page. The font is large and on each spread an important and/or significant word is much enlarged for emphasis. The words are nearly all verbs – sparkle, kicks, hop, scurry, skid, stamping, chases, swoops and pounces – and this gives an appealing flow and energy to the story.
The artwork is beautiful with a subtle range of bush colours and lots of energy in the lines. Personally, I am not a fan of the huge stark black eyes of the two mice as they tend to dominate the pages, but I am sure that this will not worry young readers.
This pleasant little tale provides a perfect opportunity to talk about environmental issues important to all who live in Australia.
Reviewed by Mia Macrossan