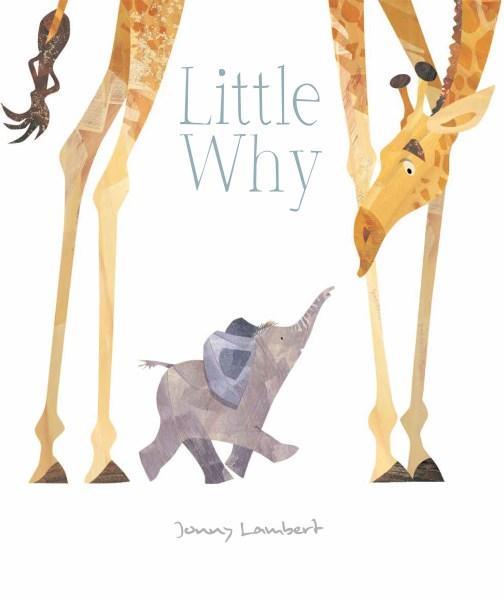 Jonny Lambert, Little Why, Little Tiger Press, 1 July 2016, 32pp., $16.99 (pbk), ISBN 9781848691834
Jonny Lambert is a very gifted English author/illustrator, creative designer and paper engineer who has created over 300 books for kids.  Little Why is his latest picture book about an inquisitive baby elephant walking in a line of elephants on their way through the African Savannah to the river.  On the way Little Why is distracted by the other animals he sees. He wants the Wildebeest's spiky horns, the giraffe's long legs, the Cheetah's spotty fur, the crocodile's snout, and he wants fancy feathers so he can fly like a bird.  Each time he detours from the procession he is told firmly to get 'Back in the Line.' The story leads to a gentle message at the end about feeling happy with who we are and what we have.
Jonny Lambert's bright water-colour illustrations stand out clearly against the clean white background. The lines are sharp as if the shapes have been cut out of paper. I love the way the big animals spill off the edges of the pages so we get the view from Little Why's perspective.
I highly recommend this book for pre-school kids from ages 2-5. I think discussions will be sparked about body image, stranger danger, and the wisdom of doing what your elders tell you.
Reviewed by Wendy Fitzgerald