Samaria Rose Lemke (text) and Ruth-Mary Smith (illustrator), Little Mister Gets a Sister, Larrikin House, October 2021, 32 pp., RRP $24.99 (hbk), ISBN 9781922503473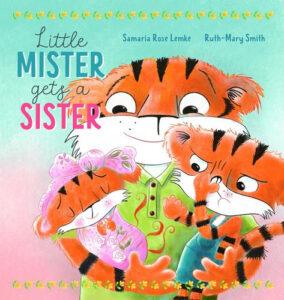 From the moment our toddler tiger protagonist finds out a baby is on the way, he is not happy. Things get worse when his little sister arrives. She smells, dribbles and drools. She can't walk or talk or play his games. He dreams of ways to get rid of her but has a change of heart when he realises he is bigger and can teach her things.
This relatable picture book deals with sibling rivalry. Young tiger resents the new arrival and all the attention she receives. I enjoyed the humorous account of all the pain little sister brings, but his conversion from distaste to delight at the last minute seems a little too convenient. It would have been good to include more positive interactions. The humorous rhyming text introduces some novel words, and the whimsical illustrations support the text. This book is a fun way to explore celebrations, friendship and feelings with early childhood and kindergarten children.
Reviewed by Sharon Seymour