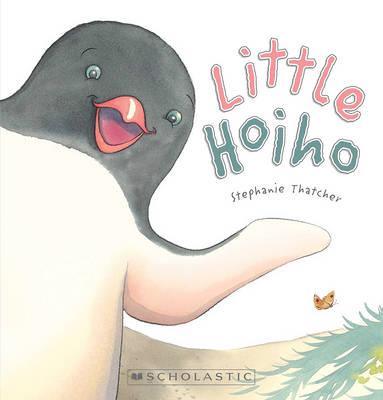 Stephanie Thatcher,  Little Hoiho, Scholastic (NZ), 1 February 2015, $NZ 19.00(pbk),  32pp.,  ISBN 978-1-77543-249-4
A rare and endangered species of penguin, the hoiho (translated from Māori as "noise shouter" as stated in the peritext of this book) has a yellow band around its head and yellow eyes. This evocative story then is about difference and the potential to be othered. Little hoiho espies the kotuku with long legs, the toroa with big wings, tui with its enchanting sounds and tries to copy them. She walks in an ungainly manner, flops when she tries to fly and chirps an ugly sound. She is depressed. Accidently she falls into the sea and wow! She can swim. What other bird swims like a penguin? She learns to accept her difference and realises that she is perfect the way that she is.
This is an excellent book to introduce to your children the idea of identity. There are some things that are similar (after all a yellow-eyed penguin is still a penguin and indeed bird) but there are also some things that are unique that define us and who we are. It certainly fits within the New Zealand national curriculum. The key thing is to evoke inferential thinking rather than instruct so that the pleasure of the story is not lost.
The illustrations are finely done – the use of white space and soft palette forces the viewer to focus on the bird's expressive face and movement. Recommended.
reviewed by  John McKenzie