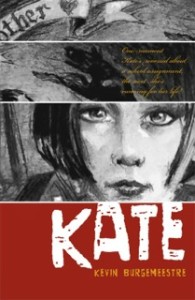 Kevin BURGEMEESTRE  Kate Morris Pub, 2013 248pp $22.00 pbk +e ISBN 9780987543448 SCIS 1657647
Kate is a novel which is challenging and engaging in its choice of subject material.  It features a young woman who is facing a number of significant personal challenges.  Whilst facing all the normal angst of high school years she must also navigate the recent loss of a family member and changes to her social groups.  Adding further complications is the presence of a group of bullies, who always seem to focus on the most vulnerable.  Sadly, this is only just the beginning, as far more evil characters make their presence felt in Kate's already tumultuous life.
This book is not all doom and gloom.  Her father cares deeply for her and does his best to help.  Also arriving on the scene are a pair of lost mongrels in the form of a mongrel dog and a boy who is all gruff exterior but deeply caring beneath.  Burgemeestre also counter points Kate's life with the artist Frieda Kahlo, who provides a positive role model.  The book features a number of pencil drawings which are Kahlo-esque in nature.  They add a nice texture to the novel which is an engaging and satisfying read for young adult and up.
reviewed by David Murphy