Silva McLeod, Island Girl to Airline Pilot, Exisle Publishing, April 2023, 320 pp., RRP $34.95 (pbk), ISBN 9781922539618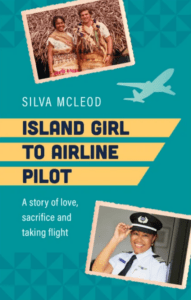 Island girl to airline pilot by Silva McLeod is a beautiful autobiography of a Tongan woman adjusting and changing the standards of a white man's world. Her memoir describes the hardships and sacrifices she makes when choosing to follow the career of her dreams.
Silva McLeod challenges island stereotypes many Polynesian women continue to be subjected to, such as only being useful as a mother, and to spend the rest of their lives burdened with domestic duties. She challenges this stereotype by choosing to become a pilot even after having children.
Although many obstacles arise when she choses to pursue her dream career. In order for Silva to spread her wings and embark on her journey she has to make the ultimate sacrifice, being apart from her family. Whilst being away from her family was lonely she was always supported and loved by them. Her husband Ken, despite going through health complications continued to be her number one supporter. I admire her bravery and determination; she proves nothing great can be achieved easily.
As a young Tongan girl, I really enjoyed this story, I found it relatable especially the sections dealing with Silva's life in Tonga. This story inspires me to not be bound by the cultural norms in society today, it inspires me to choose my own path in life. Although it may not be perfect there will always be a way to overcome it.
I definitely will be recommending this memoir to my friends and other Polynesian girls, as this is exactly what we should be reading. This memoir will inspire and influence how other Polynesian girls live out their lives and how our dreams can become a reality if we put in the hard work.
As a 17-year-old Tongan girl, I believe every school should acquire this memoir for all students to understand the life of a Tongan women. This memoir could positively influence the life of another Polynesian student, because there aren't many books out there written about us island girls but let me just say that after reading this memoir I have developed a new outlook on my own future thanks to Silva's story. Other Australian students can be informed on the constrictions Tongan women undergo living in a society that doesn't cater to brown skin.
This was a touching heartfelt story and I've learnt a lot about Silva McLeod and her journey to becoming the first female Tongan pilot.
Reviewed by Soana Sili