Ruta Sepetys, I Must Betray You, Hachette Children's Books, November 2022, 336 pp., RRP $19.99 (pbk), ISBN 9781444967616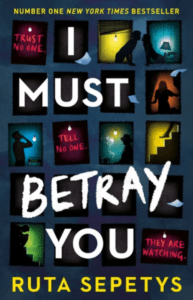 Romania is a dangerous place in 1989. Communism dictates and represses the country, causing constant fear. The State know everything.
When 17-year-old Christian Florescu is approached by the secret police, he is forced into secretly providing information to the government. He could be rewarded with life-saving treatment for his grandfather, or his family could be in danger. Grappling with the constant feeling of distrust and suspicion, Christian feels obliged to lay low and keep his family safe. But a revolution is around the corner, and the government will stop at nothing to make sure it doesn't happen.
I Must Betray You provides readers with a story that deals with themes of love and friendship as well as an accurate portrayal of conflict in Romania in 1989. This historical fiction is a source of education surrounding an event in history that is not often taught or talked about. This novel was one of the 2023 CBCA Qld Branch's Readers cup books for the year 9/10 age category, so I would recommend this book to ages 14 and above, as it includes violence and distressing themes.
This was one of the favourited novels from the readers cup collection, as the story has such a compelling nature with the revolution slowly approaching throughout the novel, offering hope to millions of people who had been oppressed for 23 years.
Reviewed by Emily Woolnough