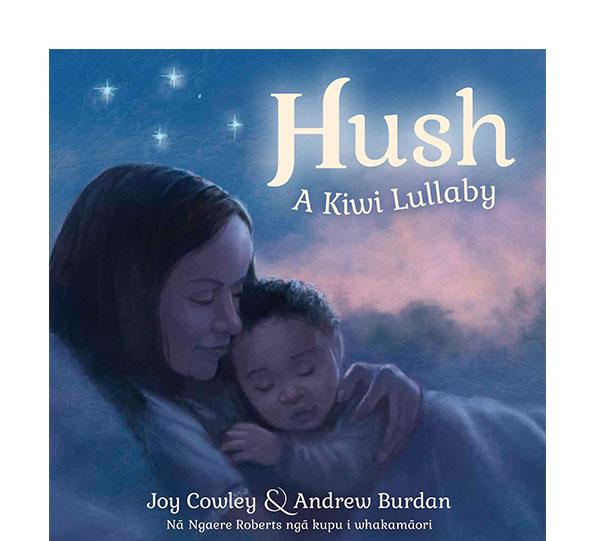 Joy Cowley (text),  Andrew Burdan (illus.),  Hush: a kiwi lullaby Scholastic (NZ),  May 2015,  $NZ 27.00 (hbk),  32pp.,  ISBN 978-1-77543-296-8   —  Retold in Māori by Ngaere Roberts.
Do you recall the nursery rhyme lullaby "Hush little baby, don't say a word, Mama's gonna buy you a mockingbird"? Though the date and authorship are unknown, it is a lullaby that is believed to have its origin in the USA (given the naming of this particular species of bird). A question for parents (including Dads)! Do you love to sing your child to sleep? Joy Cowley here has given a Kiwi version of this well-known verse in a picture book with beautifully designed illustrations that may well give much more pleasure for parents and the little one as they settle each other down to sleep! Nothing like a good book to share at the end of the day.
"Hush, little baby, and go to sleep. Mama's going to give you a woolly sheep…" The first double-page spread contrasts dusk and dawn as it were, where a young lamb stands alert in light (dawn), looking back seemingly to a mother cuddling a young lad to sleep (dusk). "And if that woolly sheep won't baa, Mama's going to give you a wishing star…" The second double page spread again uses leading lines as the viewer follows the arm of the mother holding her baby whilst reaching out to a twinkling star, at the same time looking back into the text (and a baby lamb leaping back into the previous page). Compositionally, image and narrative blend to create both a visual and verbal form of poetry.  Given the visual imagery of a young Māori mother and son, it is absolutely fitting that the poem is retold in Māori after the initial telling (followed with a glossary of Māori/English). Recommended.
reviewed by John McKenzie