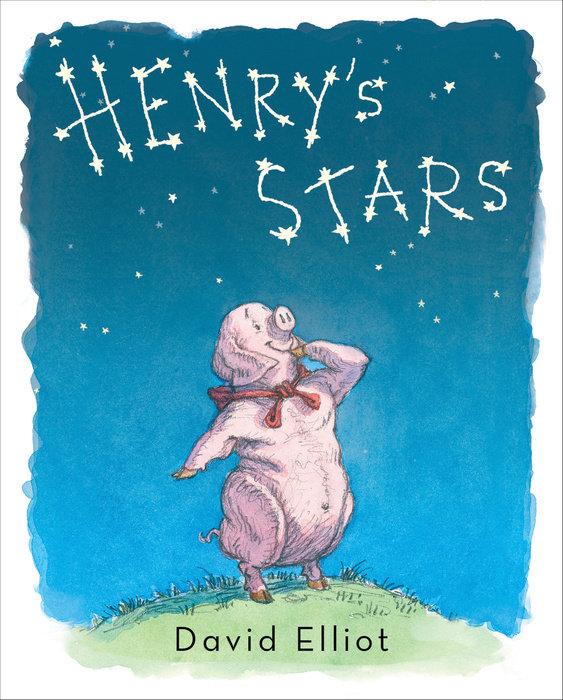 David Elliot,  Henry's Stars. Penguin Random House NZ,  5 May 2015,  $NZ 19.99 (pbk), 40pp., ISBN 978-1-77-553824-0
A sequel to Henry's Map where we discover that Henry is something of a finicky pig who likes everything in its place and order in the world and makes up a map of the farm so that all is where it should be (and where he discovers that there is a difference between abstract ideas and lived realities), here in Henry's Stars, our little pig discovers that perspective is what it is all about.   One beautiful night, Henry looks about at the sky and his face suddenly lights up: by joining the dots in the sky he can see a pig! He races to the woolshed to share his discovery and the sheep too look up to the sky.  "Yes" they bleat, "There is a sheep's ear and woolly body. How clever you are, Henry- you found a Great Sheep."  Abigail, a cow, sees a horn.  Mr Brown the horse sees a Great Starry Horse… and so chaos happens. Henry sternly asserts his perspective, but when he looks again, he sees what they see too.  What happens when he, once again, sees the Great Pig in the Sky? How does her respond? Well he might be running off to the others again, but we don't know what he has "learnt". It is up to us to fill in the gaps. What is remarkable here is David Elliot's trademark illustrative style (being a winner of the inaugural 2011 Mallinson Rendel Illustrators Award).
Something of the author/illustrator's journey in constructing this book can be found on his website.  Certainly, this is a book to share with young children when celebrating Matariki (the Māori New Year) when we encourage children to look out to the stars on a dark night. What do they see? An integrated unit (science and literacy) here is awaiting the creative teacher! Recommended for the junior school.
reviewed by John McKenzie