Jason Bittel (text) and Kelsey Buzzell (illustrator), How to Talk to a Tiger… and Other Animals, Magic Cat Publishing, April 2021, 64 pp., RRP $38.80 (hbk), ISBN 9781913520076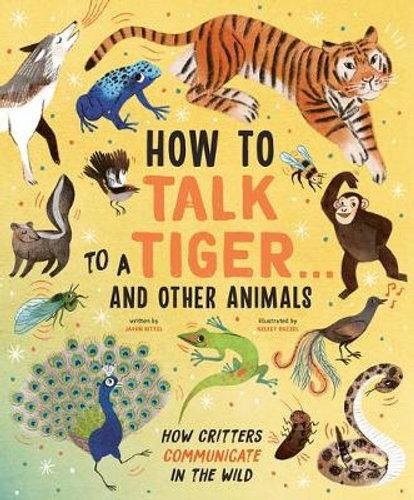 How to talk like a tiger…and other animals celebrates the abundance of bizarre techniques that animals use to communicate with each other. With more than one hundred animals, the book is separated into four sections: sights; sounds; smell and taste; electrosensory and touch. There are pages devoted to delving more deeply into a species or a special aspect of animal communication.
Every page teems with animal insights, beautifully illustrated by Kelsey Buzzell's whimsical animal art. Animals from all over the world (including Australia) are explored, such as funny farting fish, clever cooperative canines, and bizarre birds. Bittel includes all sorts of weird communication tricks that animals use, from the more secretive techniques to the brazen. There are lots of giggles and moments of awe. The target age group of young readers from seven onwards have really been considered because there are tips on how to observe communication in common domestic pets too. This is a great way to encourage children to try the practice of observing animal body language.
How to talk to a tiger…and other animals captures the passion of someone who has genuinely spent time observing animals. Jason Bittel is a National Geographic Society Explorer, science journalist and writes about animals and science for children in numerous publications.
The scientific terminology of biological characteristics is included, making this a great book for cultivating scientific literacy. Readers can learn about bee pheromones, aposematic colouration and cockroach spiracles through simple explanations that are enjoyable to read. The format and size of this book (290mm x 235 mm) and combination of art and science, make it ideal for younger readers to read with a friend. From the miniscule to the massive, How to talk like a tiger…and other animals invites animal lovers of all ages to listen to the deep conversations that animals have.
Reviewed by Angela Brown