Cat Rabbit, How to Make Friends, A Bear's Guide, Berbay Publishing, September 2021, 32 pp., RRP $25.99 (hbk), ISBN 9780645069600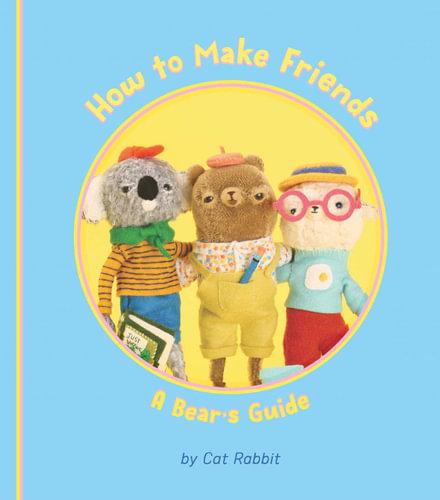 Bear wants to make some new friends; real friends, not toy friends and she isn't really sure how to go about it. Bear is also unsure if Koala and Lamb, who she is keen to befriend, would even like her and the things she likes to do. So, Bear writes down all the things she has noticed that Lamb and Koala like to do and then places herself nearby to she can join in with them. But this plan doesn't work so Bear decides to go back to doing the things she likes to do with her toy-friends. Surprisingly for Bear, Koala and Lamb become interested in the things she does, and Bear discovers that being herself is the best way to make friends, after all.
How to Make Friends – A Bear's Guide by Cat Rabbit is a dear little book for children of three years and over. From the very start, its sky-blue cover with a bright yellow circular cut-out showing Bear with Friends captures the cuteness factor. Dressed in rather smart attire, handmade by Cat Rabbit herself, the delightful characters in this book look ready to be cuddled.
Cat Rabbit allows the story to gently unfold toward the resolution of Bear's dilemma using accessible language and uncomplicated vocabulary. The words work well with the illustrations which depict Bear with friends (both toy friends and new ones) involved in all sorts of activities that young children will relate to as things they also enjoy.
How to Make Friends – A Bear's Guide is more than a read-out-loud book about making friends and being yourself. It is a lovely visual experience which is sure to engender all sorts of conversations between children and adults about the characters and the process involved in making them and their clothes as well as the message the book conveys.
Author, Cat Rabbit is a textile designer and exhibiting artist who has used the plush sculptural characters she creates as exhibition works to tell this story. I remember having a book with photographic images as illustrations and I always loved the uniqueness of it.
Reviewed by Jennifer Mors