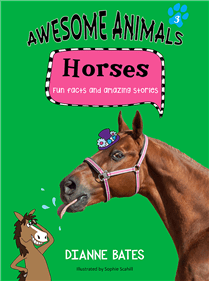 Dianne Bates (text),  Sophie Scahill (illus),  Horses (Amazing Animals #3),  Big Sky Publishing,  1 April 2016,  150pp.,  $14.99 (pbk), ISBN 9781925275858
This is number three in the Awesome Animals series, and is a non-fiction book broken into 18 chapters of horse facts. Each chapter is covers different aspect of people and horses, and the chapters consist of short, bite sized facts, perfect for readers to dip in and out of. The facts are broken up by colourful, cartoonish illustrations, and photographs of the equines (horses, ponies and donkeys) from Horse Shepherd Equine Sanctuary. The last chapter is all about the Sanctuary and its inhabitants, including a short bio of each horse featured. There is also a list of recommended readings – all horse books of course.
This book will be a favourite of horsey kids everywhere – fun facts, easy to read and all about horses. Unfortunately there are many typographical errors and it appears the book has not been carefully edited. On page 123 it states "Horses have about 175 bones in their body." On the facing page, under a slightly different heading, it states "There are 205 bones in a horse's body." There are similar errors and contradictions throughout the text, which is disappointing. There is also a chapter on horses in art, which could have been greatly improved by the addition of pictures of the works it described.
This book would be popular in public and upper primary and lower secondary libraries, however given the number of errors this reviewer cannot recommend it in its current form. A good editor could get it into shape for a reprint.
Reviewed by Rebecca Kemble