Karen Foxlee (text), and Evie Barrow (illustrator), Horatio Squeak, Walker Books Australia, July 2019, 40 pp., RRP $27.99 (hbk), ISBN 9781760650476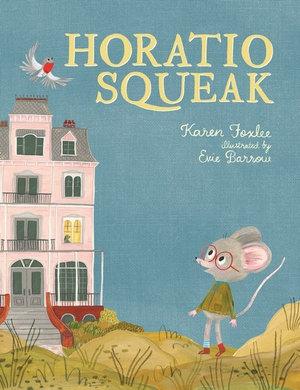 Following the success of Karen Foxlee's Lenny's Book of Everything comes the inspiring tale of Horatio Squeak.
This is the story of a tiny mouse, who lives with his family in a very large house. His socks may not match, his coat may be threadbare, but teeny tiny Horatio Squeak has a big lesson for all of us.
One ordinary Tuesday, Horatio receives an invitation to a party at the top of the attic stairs. Shy and anxious, Horatio would rather stay home. Armed with a thimble of crumb cake and some gentle encouragement from his mother, Horatio sets off. When he arrives at the green attic door, Horatio discovers three mischievous kittens keen to play with a mouse. Despite his initial trepidation, Horatio begins to enjoy himself. When a robin red breast is unwillingly included in the kittens' revelry, Horatio discovers something extraordinary within himself.
This story deftly tackles a range of social issues in a manner easily accessible for children. Horatio experiences anxiety over attending the party and, once there, he tries hard to fit in. It's when he witnesses the bullying of another, that Horatio discovers his own true strength. Foxlee's skilful incorporation of big themes into this tale of a little mouse will have readers relating to this unlikely hero.
Evie Barrow's delightful gouache and pencil illustrations add colour, innocence and joy to the pages. The images are created with warmth and affection which further endears Horatio to the reader.
Uplifting and inspiring, Horatio Squeak has a place in every primary classroom and is certain to become a favourite of children, parents and teachers alike.
Reviewed by Fiona Miller-Stevens