Antoinette Portis, Hey, Water!, Scallywag Press, August 2021, 44 pp., RRP $16.99 (pbk), ISBN 9781912650606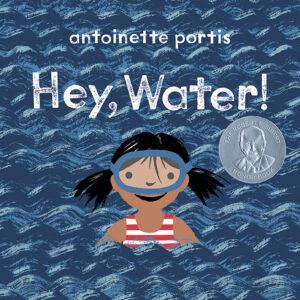 This picture book was first published in the US in 2019. It is part story, part information book for the very young. A young girl is talking about water, celebrating and enjoying it in all its forms – liquid, solid, gas. In a series of double page spreads, she lists the places she finds water in her every day life, and how it moves and changes in those places, and how she and other people interact with it. At the very end of the book are some facts about water – its forms, the water cycle, and how to conserve water. There are also some simple experiments and activities for young children to do, and a short quiz on the information contained in the text.
Until the final pages, this book has very minimal text, and instead the illustrations are the main focus. They are very simple but effective and convey the movement and the texture of the water in its various guises. The palette is of course dominated by blues and greys but containsbright splashes of colour in the form of children. This is an accessible and appealing book and should be enjoyed by preschoolers.
It would be a good starting point for activities involving water. Recommended for preschool and public libraries.
Reviewed by Rebecca Kemble