Shelly Unwin (text) Jedda Robaard (illustrator), Hello, Baby! Allen & Unwin, March 2021, 26 pp., RRP $19.99 (hbk), ISBN 9781760876074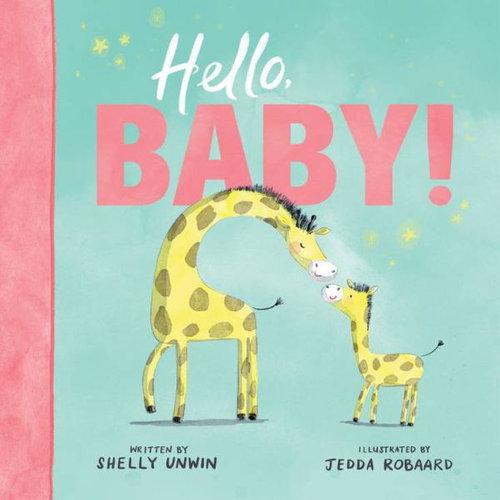 Hello, Baby! is an adorable new picture book from successful children's author Shelly Unwin and bestselling illustrator, Jedda Robaard.
Here you are. Look at you!
Tiny, precious, all brand-new!
At first you were a beating heart,
Now your life's about to start… Hello, Baby!
As a child, Shelly Unwin loved the foster children that her mother used to care for, especially the tiny babies that she helped wash and feed. And it's this authentic early awe and wonder that shines through these beautiful, lyrical pages.
The simple rhyming text is accompanied by Jedda Robaard's immediately recognisable (The Little Zebra who Lost his Stripes) softly textured illustrations. With each double page spread a new animal family caring tenderly for their young is depicted.
From whales, giraffes, and elephants to koalas, sloths, and platypus, each animal family communicates those universal hopes, dreams, and promises that all parents share when their little ones arrive.
With a bookplate for a personalised dedication message and space for baby's first photo, this title is a great gift for new or expectant parents and the perfect celebration of new life and hopeful futures.
Reviewed by Lisa Hoad