Claire Saxby and Cindy Lane, Great White Shark, Walker Books, August 2021, 32 pp., RRP $26.99 (hbk), ISBN 9781760651848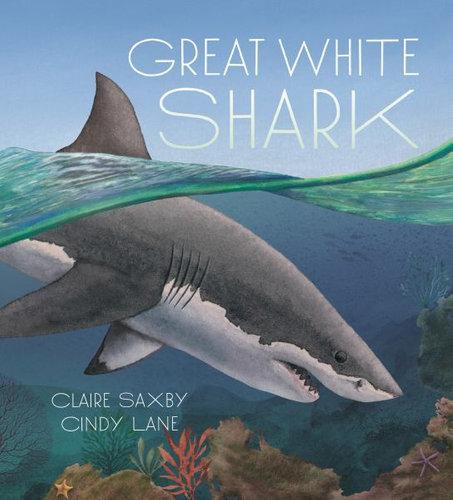 "What is she looking for? She's looking for food. She is a silent and powerful submarine and follows her own maps."
Great white sharks have a sixth sense called electroreception. This allows them to detect prey and navigate.
Award winning author Claire Saxby brings us her seventh title in the Walker's Nature book series focusing on Australian native fauna. The text is well considered – engaging, descriptive and informative. Each book is written in a narrative style with sections of facts on each spread in different fonts.
We learn that the great white shark is a mysterious and solitary creature, seeking hunting grounds and a place to birth her pups discreetly. Facts highlight how this shark only understands "food or non-food" through taste trial and error, which is shown in a spread where the shark chomps on a boat hull. The focus of the book is on the shark's need for food and survival and how it lives in and engages with the ocean world. Both the author and illustrator have taken great care to present this majestic beast in a non-threatening manner. The appendix touches on the chances of a human being eaten by a shark, which are slim, compared to, for example, the chance of being struck by lightning.
I was astounded to discover this is the illustrator's debut picture book. Cindy Lane captures the movement and muscular power of the shark as it chases prey perfectly. The grace and power of the great white shark dominates each page set within a stunning watercolour background.
Great White Shark is a page turning nature book for 4-8 years with an interest in wildlife and ocean creatures. Overall, the presentation of the book and its subject — the text, illustrations, appendix and glossary — will make this a popular non-fiction book in any school library.
Reviewed by Stef Gemmill