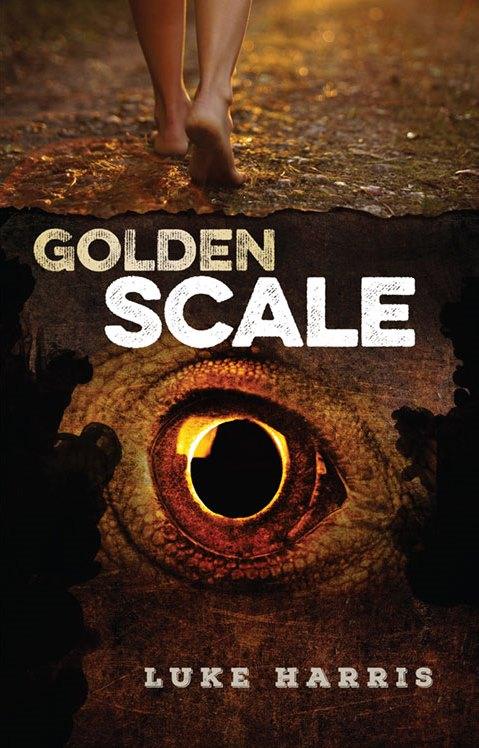 Luke Harris, Goldenscale,  Silverbird Publishing,  17 May 2015,  332pp.,  $20.00 (pbk),  ISBN 9780646939384
Beth Ormonde, her brother Sam and their parents, Abbie and Nick, live in Goolgoorook, an outer suburb of Sydney. Abbie is being interviewed for a job in the city, which probably means the family will relocate, and Abbie and Nick are arguing about that. Beth is being physically bullied by Len Crabbit, a boy at her school. Unfortunately, Beth's friend, Sarah, is Len's sister. Another friend, Jo, has a father in Indonesia where he is under the threat of jail.  But none of that is the turning point of the novel. The central problem is that there is a dragon awakening in the Ormonde's cellar, and Beth is the person confronting it.
The novel describes Beth's life as she is taken under the spell of Goldenscale, how she copes with the adults who are also becoming aware of the magic in their midst, and her distraction as she attempts to find a way to save Goolgoorook. The other strands have only a marginal relevance and the reader becomes impatient to get back to the heart of the story. As for the dragon, only on the last pages are we given a glimpse of its glory.
Unfortunately, Harris's merging of ancient European myths of dragons and Aboriginal story is clumsy and unconvincing.
There are some aspects of this self-published novel which are promising. Harris's recognition of teenage pre-occupations, and the way they speak to each other is excellent. The interactions of the family group are realistic pictures of parent/child relationships. With less diversions from the core and a faster pace, Goldenscale would have been a better novel.
Note: The modern convention is to give 'Aborigines' and 'Aboriginal' a capital letter A.
Reviewed by Stella Lees