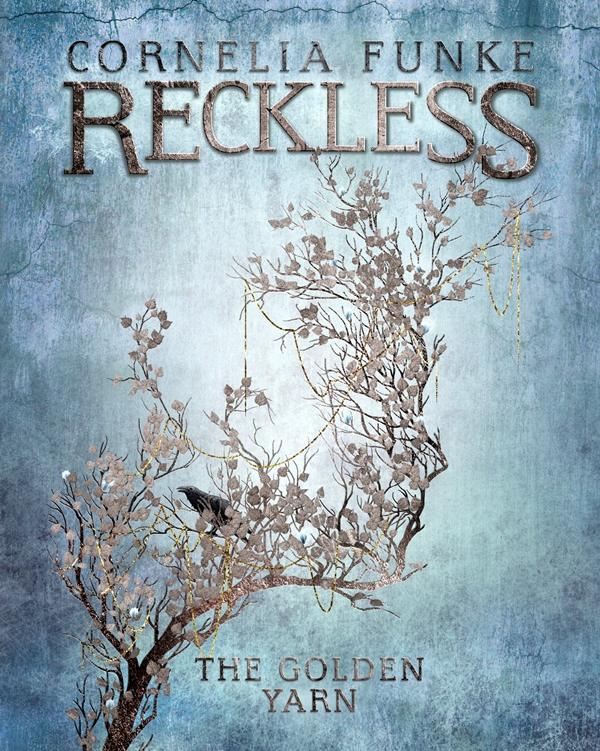 Cornelia Funke,  The Golden Yarn : Reckless (Mirrorworld #3),  Pushkin Press/Murdoch Books,  Dec 2016,  442pp.,  $24.99 (hbk),  ISBN: 9781782691266
German author, Cornelia Funke is well known for her addictive, fantastical novels that draw the reader into worlds unlike any other. The Mirrorworld is no different, full of dark, dangers and unexpected twists.   In the third title of the Mirrorworld series, we once again join Jacob Reckless, the human treasure-hunter whose adventures we have already followed in two previous Reckless books, The Petrified Flesh and Living Shadows.   In The Golden Yarn, Jacob, with his shapeshifting companion Fox, travel deep into Varangia, the land of the Baba Yaga and Russian folklore, to repay a great debt to the Alder Elf, known by many different names.
As in the previous titles in the series, The Golden Yarn weaves a complex and engaging tale, that absorbs the reader with its clever melding of fairytale and folklore. Short chapters increase the pace of the storytelling, however every character feels well developed and interesting. Jacob Reckless is not a simple hero; he is conflicted and very human, and makes just as many bad choices as he does good. However, his fidelity to family and friends and his combination of bravery and pluck make him a very likeable protagonist. The supporting characters are equally well realised, each with their own personal struggles.
The introduction of Russian folklore brings a different tone to the more Europe-centric fairytales which inform the characters and settings of the previous two books. Funke has plans for two more titles in the series, and is said to be including tales from other cultures in these. This layering of fantasy and culture increases the richness of the stories, but will also challenge the reader to engage with the text at a deeper level.
The Golden Yarn is a young adult book. While 14 and 15 year olds will enjoy this new addition to the series, younger adolescents who are strong readers will also be drawn into the story. While the characters are adults, and have adult relationships, these are not dwelt upon in any great detail. The focus is on the adventure and mystery of these amazing fantasy lands.
A must-have series for every high-school library, there is also a Tumblr website and mobile device apps that are sure to engage avid fans.
Reviewed by Kay Oddone