Kaye Baillie (text) and Tracie Grimwood (illustrator), Boo loves Books, New Frontier Publishing, May 2020, 32 pp., (hbk), RRP $24.99 ISBN 9781922326027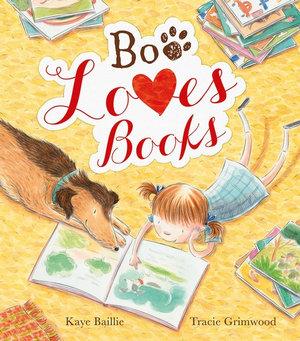 Children who have trouble with reading as well as those who suffer from anxiety are likely to find reassurance and encouragement in this story. The main character Phoebe finds reading stressful and when her class teacher announces an excursion to read 'somewhere special' her tummy flip flops. She tells her mum, 'I'll be sick tomorrow'.
When the class arrives at a lost dog's home and the children are expected to read to the animals, Phoebe is even more worried. Not only does she not like reading but her dog Boo is BIG. But when Phoebe's teacher explains that Boo is also scared, Phoebe puts on her brave pants and tries to coax Boo around.
Baillie's inspiration for the story was a Book Buddies program in America where primary school kids read to homeless cats. The article focused on the transformation of a boy who took part. The warmth of that original story shines through in this incarnation.
Grimwood has done a beautiful job using pencil and watercolour to evoke Phoebe and Boo's emotional journeys.
Highly recommended
Reviewed by Heather Gallagher
Disclosure: Heather is a friend of the author