Alan Horsfield, Gabriel's Gruelling Gourmet Odyssey, EJH Talent Promotion, November 2018, 68 pp., (pbk), ISBN 9780648027041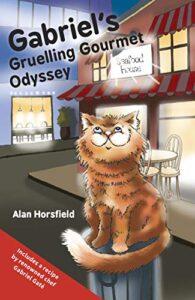 Gabriel is a cat with discerning tastes, and normal cat food just will not do!
Leaving behind his owners, The Andrews, he embarks on a journey through his neighbourhood in an effort to find a better dinner than tinned cat food. He hopes for chocolate from his neighbour, meets a dog, and some other cats whose tastes are nowhere near as good as his.
Just when he thinks all hope his lost, he finds himself outside a gourmet restaurant, which just might be his idea of heaven. However, what he doesn't know is that his owners, Val and John, are worried sick for him and putting up posters all over the neighbourhood for him.
To Val and John's relief, Pedro and Sergio the owners of the restaurant, bring Gabriel home to a promise of the very best fish every day.
Gabriel's Gruelling Gourmet Odyssey is a marvellous and fun tale, that is based in part on the adventures of a real cat called Bosley. The afterword contains a poem about the real cat, which makes this all the more charming.
In addition, the art in the book is just lovely, enhancing Gabriel's quest for the perfect dinner all the more.
Please note, one character mentions giving Gabriel chocolate, and it's widely regarding that chocolate can be harmful to cats and dogs.
Reviewed by Verushka Byrow