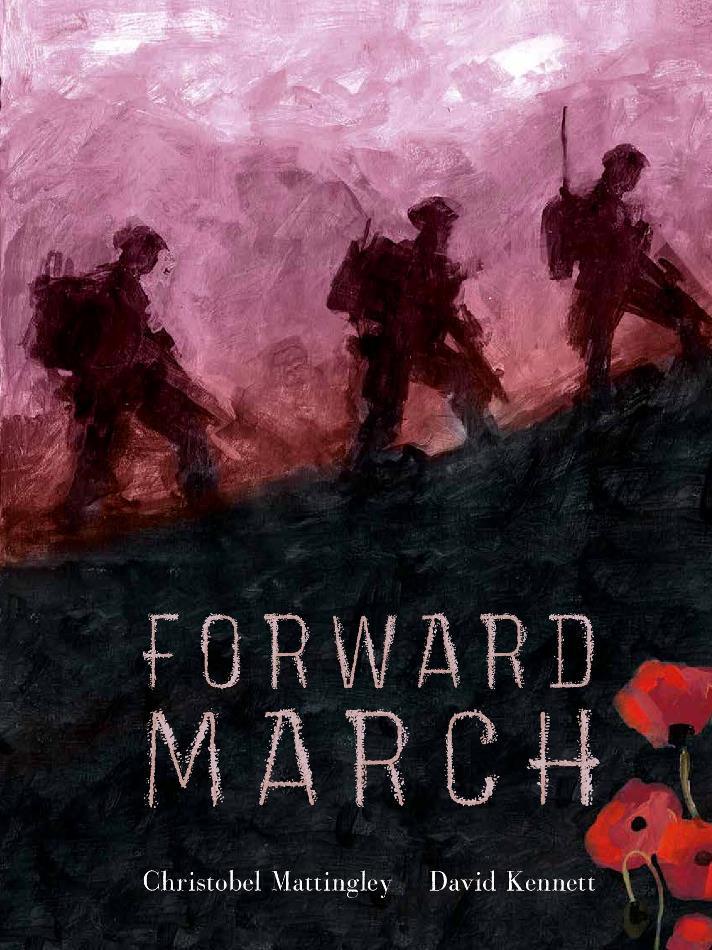 Christobel Mattingley (text), David Kennett (illus), Forward March, Scholastic Australia,  1 March 2016, 32pp., $24.99 (hbk), ISBN 9781742990804
Anzac Day. How do we capture the essence of what is such a moving and important occasion? So many people in our country have personal connections to this commemoration. We see this as crowd numbers to Anzac Day events have swelled in recent years.
Through the use of beautiful descriptive language, Christobel Mattingley has provided us with an immersive sensory experience. We hear the sounds, see the generations, remember the participants in so many places, imagine the scorching desert sands and squelching jungles. Her text perfectly partners with David Kennett's artwork to kindle in all of us a sense of awe and respect for those who risked so much to keep us safe. His amazing illustrations, impressionistic yet so real. He uses a wide range of media including acrylic paints, graphite pencil, dip pen and ink, watercolour and coloured pencils in muted tones with splashes of blood red. The pages are packed with powerful and poignant vignettes, scenes from wars past.
Aside from being a moving tribute, this book offers a wealth of opportunities to explore the use of language and visual literacy. Highly recommended for mid to upper primary. Read more about the author's thoughts on her website.
Reviewed by Sharon Seymour