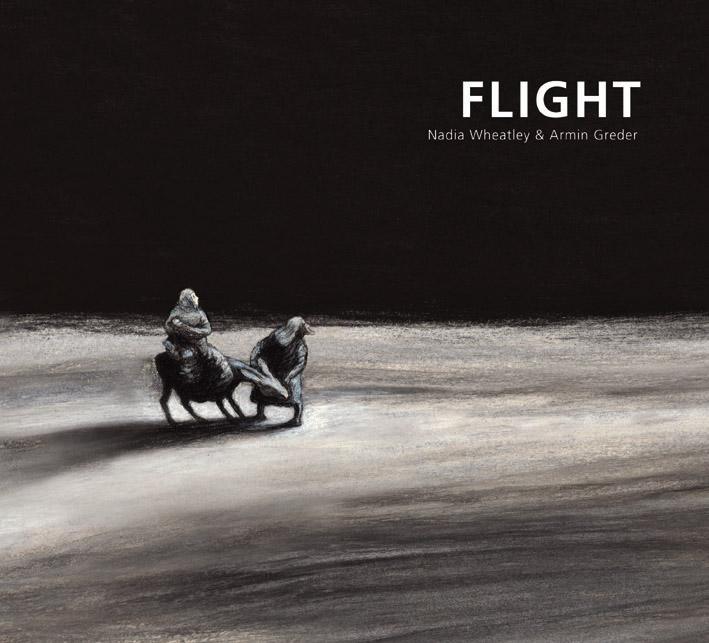 Nadia Wheatley (text),  Armin Greder (illus.),  Flight,  Windy Hollow Books,  1 June 2015,  32pp.,  $25.99 (hbk),   ISBN 9781922081484
Flight is a sophisticated picture book telling the story of a Middle Eastern man, woman and baby fleeing an unspecified country because 'authorities are after their blood'. Escaping into the desert with only a donkey, the man says they will follow a star: but far from following the Bethlehem story, this is set in modern times and the light they follow in the distance is the glow of fire and smoke from a city under siege. They lose their donkey when it shies from the rumble of armoured vehicles, and they face further adversity in the elements of the long desert journey. They arrive at last at a refugee camp and wait, with the hope of finding a new home their only sustenance.
This is a very simply told narrative: the language is straightforward allowing the gravity of a refugee story to make its impact on the reader. The illustrations are in a sketchy fashion to provoke that feeling of the shifting desert, and the thin, desperate vision of the family. This picture book could be used with any age group to begin or further the discussion of displaced people around the world: young children should be able to grasp the narrative, and secondary students would have much to analyse for their visual media studies in the English curriculum.
reviewed by Angie Holst