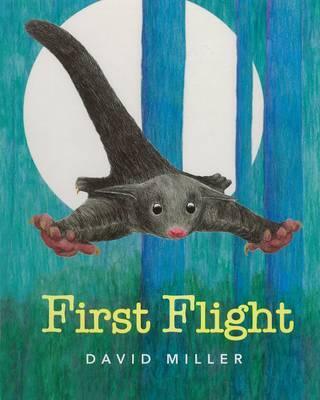 MILLER, David First Flight Working Title Press, 2014 unpaged $24.99 ISBN 9781921504570 SCIS 1650367
Joey is a yellow-bellied glider possum.  In this beautiful picture book, Joey awakes at dawn to the sound of kookaburras, cicadas and cockatoos.  He peeps out from the hole in the tree where he lives and sees the honey eaters and butterflies, but pokes his head out too far, only to fall onto the ground – his first flight.  He hides among the frogs and lizards, even from a lyrebird singing to its mate.  Finally, as the sun sets, his mother and father find him and lead him back to the nest – so Joey makes his second flight.
Miller's soft watercolours show a bush full of finely drawn creatures and gorgeous eucalypts, and the endpapers, just gum leaves, are stunning.
reviewed by Stella Lees