Kate Pankhurst, Fantastically Great Women Who Saved the Planet, Bloomsbury Children's Books, March 2020, 32 pp., RRP $14.99 (pbk), ISBN 9781408899298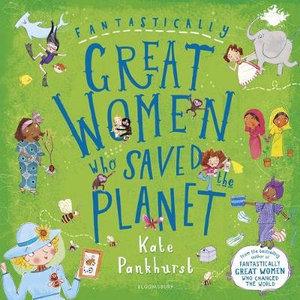 Selecting the women for this ambitiously titled book would not have been an easy task, and summarising their contributions perhaps even more challenging. But bestselling author and illustrator, Kate Pankhurst manages to do both with aplomb, sharing the untold stories of women across the world fighting for science, the environment and our planet.
In the late 1990s, Gambia's Isatou Ceesay tackled the plastic waste issue through an innovative recycling venture. Also in the 1990s, Aboriginal elders, Eileen Kampakuta Brown and Eileen Wani Wingfield bravely stopped the Australian government from building a nuclear waste dump near their land, and home, in Woomera, South Australia. Then there's Hungarian inventor and scientist, Mária Telkes, whose Dover Sunhouse in 1948 opened the door for today's solar technology. These inspirational stories of fifteen remarkable women, told in vibrant, joyful tones across double-page spreads, are hugely important but not widely known. Like several of my friends, I was familiar with only a few names.
The book offers an ideal proportion of informational text to illustrations, presented in a visually appealing, highly accessible manner. Speech bubbles break down key points into easy-to-digest information. My only quibble: the pages are arguably too busy at times with fonts that are sometimes hard to decipher (particularly, the women's names featured in the headlines). My wordsmith bias says slightly longer write-ups with the same clear narrative and exuberant design elements would pay dividends.
UK based Pankhurst, a descendent of British Suffragist, Emmeline Pankhurst, is no stranger to activism and documenting women's achievements, having penned Fantastically Great Women Who Changed the World (2015), Fantastically Great Women Who Made History (2017) and Fantastically Great Women Who Worked Wonders (2018). Like many of the women featured in its pages, Fantastically Great Women Who Saved the Planet will undoubtedly spur a younger generation to action.
A valuable resource for homes, schools and libraries.
Reviewed by Maura Pierlot
Read Maura's interview with Kate Pankhurst here