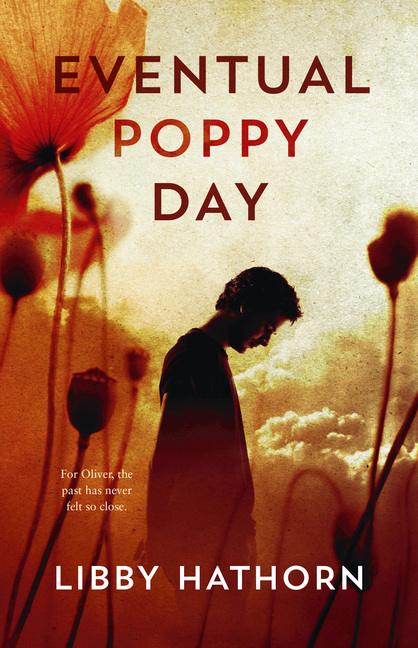 Hathorn, Libby,   Eventual Poppy Day,   HarperCollins, 1 March 2015,   $17.99(pbk) $8.99 (eBook),  384pp.,  ISBN 9780732299514
Based on Hathorn's own family's experiences during World War I, in balance with the story of a present-day teenager, this novel takes the Anzac story and links it to today. Maurice and Oliver are a hundred years apart. Maurice is seventeen, living with his family on a farm, a budding artist. Oliver, his great-great-nephew, is the same age, living with his mother and Maurice's sister, Oliver's great-grandmother, Dorothea, in Sydney. Oliver is also an artist in the making. Maurice joins the army and is sent to Gallipoli. Oliver is at war with his mother and himself. His father, Dan, has left them, and his sister, Poppy, has stopped speaking, both difficulties magnifying Oliver's angry behaviour. His trip to Canberra to see his father reveals how unhappy and aggressive Oliver can be, until later, he finds peace and greater understanding of life itself at the War Memorial. The same experience is also the impetus for the book's title. I find the title quite unappealing, despite the reference.
There is much thought and careful research in Eventual Poppy Day. It has a range of subplots – outlines of the lives behind other soldiers, sketches of family scenarios, school troubles. At times their point has little to do with the progress of the story, so that Maurice and Oliver are lost in other lives – Cecil's, Dorothea's, Rosie's, Katie's, Angelique's, or the many comrades of Maurice.
Some of the strongest writing in the book is the account of the soldiers at Anzac Cove, the Somme and Pozieres, and the romance between Maurice and Angelique, despite Maurice's love for the girl at home. Hathorn captures the close companionship of the men, the awful experience of this terrible war, the disillusionment with their leaders, and most poignantly, the longing for home.
More than many of Hathorn's novels, this one is for a mature reader in its descriptions of the terrors of the battlefield for Maurice and the troubled inner life of Oliver. It is a book to read slowly so that the complexities of World War I can be absorbed and the gradual emergence of a more mature Oliver can be appreciated.
reviewed by Stella Lees