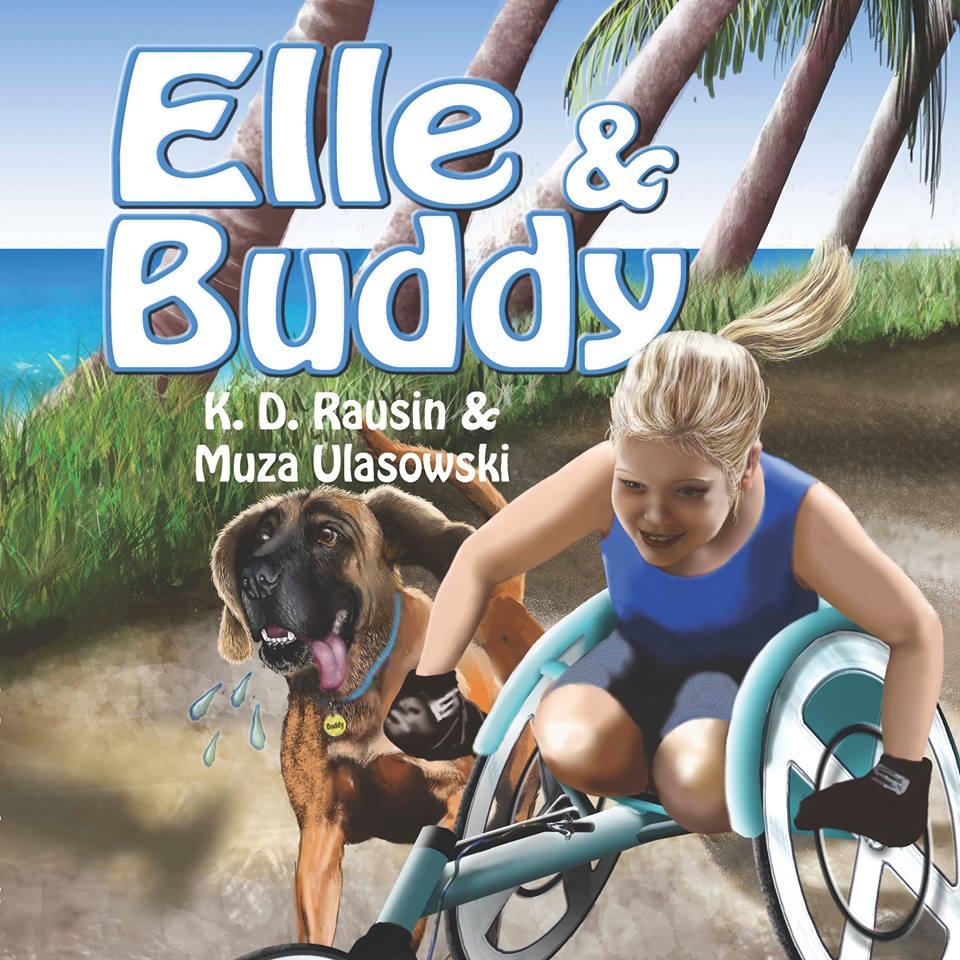 Krista Rausin (text), Muza Ulasowski (illus), Elle & Buddy, Peter E. Randall, 2 March 2015, $11.17 (pbk),  32pp.,  ISBN 978-1-942155-00-3
Timid Elle is afraid of going on a Ferris wheel, but when she sees a boy flashing around the athletics track in a racing wheelchair she decides that being wheel bound will not stop her becoming the fastest girl in the world. Elle is given a racing chair and her dream of speeding around sidewalks and seaside pathways is fulfilled.
Krista Rausin's text conveys the story with economy and polished directness. Her use of words like "flying", "whooshed" and "soaring" create the sense of freedom and escape Elle feels as she enjoys her new racing chair. The digitally painted illustrations by Australian illustrator Muza Ulasowski deftly complement the text and create an inviting warmth  through the clever use of vibrant primary colours. Double page spreads lend an energy and scale which capture Elle's joy as she experiences the thrill of speed and the growth of her own confidence. Her feelings of elation and liberation are visually referenced by the presence of delicate butterflies and squabbling seagulls that frolic in the background of many of the pictures. Elle's constant companion, her loveable dog Buddy, adds levity and realism to the subject as he slobbers and paws his way across most pages. A lovable gecko is also present on most pages and provides a point of interest for pre-readers as they listen to the story.
The book is based on the true story of Arielle Rausin, daughter of the author, who was paralysed in a car accident when aged ten. Arielle was responsible for the introduction of adaptive sports across school athletics in Florida and the book includes information about her story, a timeline history of wheelchair sports and websites readers can research. However, this is not just one girl's tale, it is a celebration of breaking through limitations, accepting difference and finding joy in life.
Elle & Buddy is an attractive book on all levels and is sure to become a worthy favourite with primary school aged readers.
reviewed by John Nolan