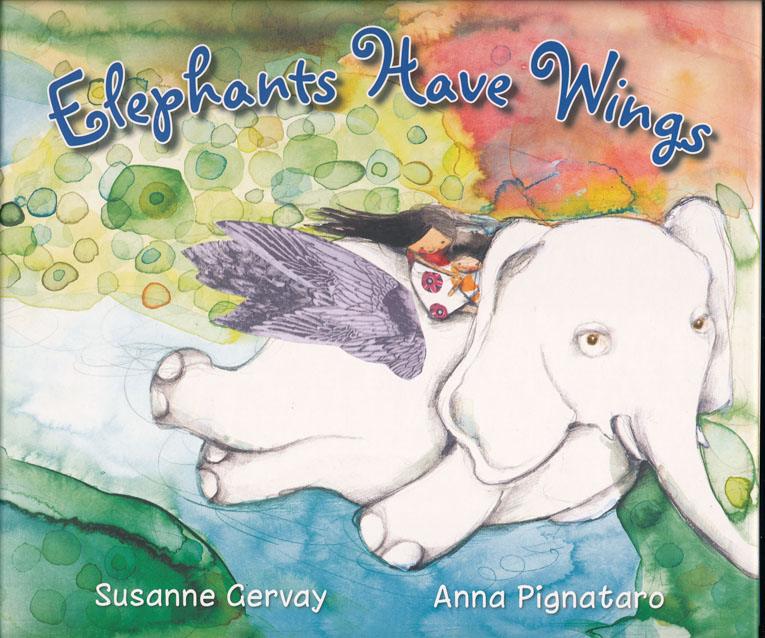 PIGNATARO, Anna (illus.) Susanne Gervay (text) Elephants Have Wings Ford Street, 2014 unpaged $26.95 ISBN 9781925000399 SCIS 1674011
Two young children plead with their father to hear their favourite story.  The story, passed down from grandfather, tells of a group of children searching in the dark to discover a secret.  Each believes they have found the secret until grandfather shines a candle and they realise they all hold parts of a bigger truth.  Wanting to discover the secret for themselves, the two young children embark on a magical journey, riding on the back of a winged elephant over faraway lands into Grandfather's past.  When they return home the girl whispers the secret to her brother.
This beautiful picture book is based on a parable of the blind men and the elephant.  The ethereal illustrations are rendered in watercolour and collage.  They are a rich tapestry, bringing depth to the words and challenging the reader to discover their own truth.  Elephants Have Wings demands rereading and will offer a great springboard for visual literacy.  Possible topics to explore are parables, symbolism, point of view, war, migration, truth and hope.  As the symbolism allows the viewer to interpret the story for themselves, this book is highly recommended for readers of all ages.
reviewed by Sharon Seymour