Amy Dunjey (text) and Jesus Lopez (illustrator),
Dancing with Dragons
, Larrikin House, February 2022, 32 pp., RRP $19.99 (hbk), ISBN 9781922503299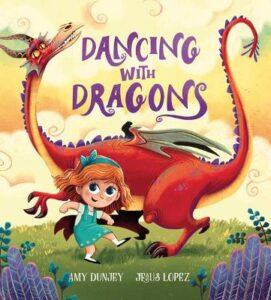 Rose is a young girl who loves to explore, especially the forest where she discovers flowers and trees, and rabbits and bees. But on this day, Rose is suddenly confronted by two giant dragons, fiery and fearsome. She is frozen with fright. But it seems not all dragons are intent on eating humans; these dragons are pleased to meet Rose for an entirely different reason. They need someone to judge who is the best dancer between them. Rose will be perfect, especially as she is a fabulous dancer herself. 
Dancing with Dragons is a delightful book to read and to be read out-loud. The carefully crafted rhyme and vibrant illustrations make every page a joy and keep up a dancing pace throughout the story. Dunjey and Lopez have created a 'feel-good' book for young children and their carers to read many times over. Dancing with Dragons will make everyone smile. 
Reviewed by Jen Mors