Biffy James, Completely Normal (and Other Lies), Hardie Grant Children's Publishing, July 2022, 304 pp., RRP $19.99 (pbk), ISBN 9781760508746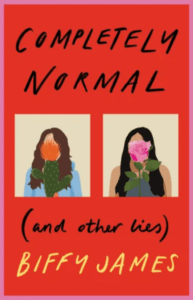 Completely Normal (and Other Lies) is a fast-paced, emotional novel with well-written characters and an enjoyable storyline. James depicts an accurate life and the accompanying emotions of a typical teenager. This novel is full of relatable ups and downs that take readers on an emotional rollercoaster.
Stella Wilde wants a different life. She wants a different family and different friends. She wants to be a different person, someone with interesting hobbies who doesn't need to attend therapy sessions every Thursday, and, most importantly, Stella wants Isaac Calder. Unfortunately, Isaac already has a girlfriend, the gorgeous, smart, kind, and all-around perfect Grace Reyes.
Stella has never felt important or valued. Her older brother is clearly the favourite child, her new step-sister was even named after him. And then there are Stella's friends. Reena and Sophie are simply horrible people. They're selfish and rude while Emma is just irritating and pathetic.
When Stella meets Isaac after one of her Thursday sessions there's an instant connection. The conversation is easy and she finally feels heard. Seen. They text every day about nothing and everything until it's two in the morning and school starts in a few hours. But Isaac doesn't seem to want to face reality. He doesn't act the same at school and he turns Stella down every time she suggests they do something.
When Isaac gets in a fatal car accident Stella's bright new world is turned upside down and thanks to a random partner assignment in Biology Stella is grouped with Grace. Grace turns out to be just as wonderful as Stella had imagined and now she feels stuck. How can Stella form a friendship with this beautiful and considerate person when she had a secret relationship with her boyfriend right under her nose?
Completely Normal (and Other Lies) is a dramatic and heartfelt book in which James explores various themes including bullying, mental health, love and grief. This novel is recommended for readers fourteen years and older due to some strong language and themes.
Reviewed by India Boon