Mem Fox (text) and Mark Teague (illustrator), Cat Dog, Penguin Random House Australia, October 2021, 32 pp., RRP $19.99 (hbk), ISBN 9781761045868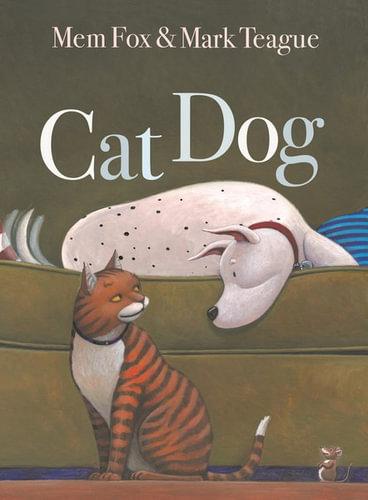 From the beloved author of Where is the Green Sheep? and Koala Lou comes this delightful and imaginative 'call and response' adventure. You've heard of the game of cat and mouse? Well, how about the game of cat and dog and mouse?
So there was a scary dog, right? begins the story. Acclaimed illustrator Mark Teague's highly expressive artwork shows a snarling, stud-collared mutt dominating the sofa as a wide-eyed cat cowers behind. Just when we're lulled into an expected response, a page-turn reveals a decisive No! and a different story entirely. This clever dance continues with an assurance-seeking question (…, right?) eliciting an emphatic (affirming or refuting) response overleaf.
Teague's ever-changing scenes play a central role, allowing the story to build in a highly entertaining way, while feeding the unreliable narration. Fox's simple, accessible text encourages interaction, inviting readers through the story's open-ended close to invent alternate storylines.
A master class in predictive text and a sure-fit hit for young ones.
Reviewed by Maura Pierlot