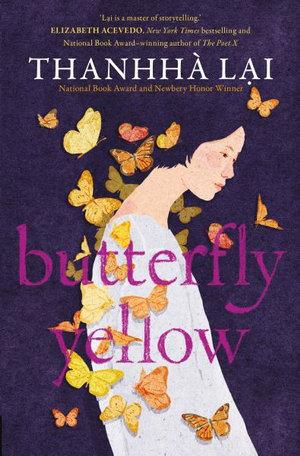 Thanhha Lai, Butterfly Yellow, University of Queensland Press, March 2020, 304 pp., RRP $19.99 (pbk), ISBN 9780702262890
Butterfly Yellow is the story of two very different characters, from two very different cultural backgrounds, who are both searching to fulfil their dream. As is the way in all road-trip stories, they find that, although their perspectives are contrary, they have more in common than they realise.
Hang has finally arrived in America and is on the last leg of her journey to find her little brother Lanh, who had been taken from her arms six years ago by a volunteer for Operation Babylift in the last days of the Vietnam war. Hang had thought they would be rescued together but she was considered too old at twelve years of age; Lanh was only five. She is given a piece of paper with his destination: Amarillo, Texas. In flashbacks, we are witness to Hang's harrowing journey to reach America.
It's 1981, and LeeRoy is eighteen years old with aspirations to be a cowboy and ride in a rodeo. He's on the road; destination Amarillo, Texas to see his idol, a bare-back rodeo rider. Of course, he and Hang find themselves unwilling travel companions.
I found this book challenging on a number of levels. Hang is struggling to master the English language, and her dialogue is written phonetically. I was not able to understand most of it, and found this a huge distraction to the flow of the story. For example, Hang says:
"Du si hi-si ti-tho? Lit-to de-lo?"
Sometimes Ly-Roi (this is how Hang spells LeeRoy) helps the reader with a translation; apparently the above sentence is saying "His teeth are a little yellow". Obviously, Lai is illuminating the difficulties that arise from mis-communication and the frustrations of not being understood, but as the reader, I felt that I didn't understand what was being said a lot of the time. I also felt that the author was always trying to 'teach' me something, for example, the complexity of English grammar:
'Every sentence forces her to contemplate subject-predicate agreement, matching tenses (remembering the tense is determined by the first word in a verb phrase), transitive verbs needing a direct object, or intransitive verbs requiring none, or irregular verbs that can't add -ed for past tense, then the pronoun must match the noun, then ridiculous articles "a, an, the" (if dismissed the meaning would remain unaltered), dangling modifiers, gerunds that can be subjects or objects, then parts of speech that require dizzying costume changes. After that, she must pronounce the whole scheme and hope her brother can understand.'
This is just way too much unnecessary information, alienating for the reader. We also learn a lot about bronco riding and how rodeos work, which I struggled to find interesting, and I think her young adult readers will find equally uninteresting and superfluous to the storyline. I feel the author has forgotten who her intended audience is, and I think many young adult readers will be skimming over whole passages to return to the story.
As the novel advances, and Hang begins to feel safe, her memories of the horrors of her boat trip begin to resurface. These are truly horrific and make this story not suitable for younger readers.
It is easy to see that Thanhha Lai intended to write a story that would create empathy for refugees and highlight the dangers they face to find a haven. I feel this story would have been better served with some judicious editing of extraneous details and with less use of phonetic dialogue. However, it does illustrate the extraordinary sacrifices that many refugees make to escape their war-torn homelands, and it would be a valuable addition to a high school library or a public library young adult collection.
I would recommend readers be 15 years old and over.
Reviewed by Gaby Meares
Read Kay Oddone's review of Butterfly Yellow here