Heath Mackenzie, Butt Out!, Scholastic Australia, November 2018, 24 pp., RRP $17.99 (hbk), ISBN
9781742997902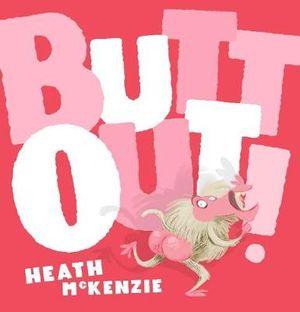 I guarantee that this book will make every child between the ages of 3 and 8 giggle their pants off! I road tested Butt Out on my 7-year-old nephew, and he grinned from ear to ear through the entire book.
Best known for his work illustrating DO NOT OPEN THIS BOOK by Andy Lee, Heath McKenzie has created a vibrant antidote for those down in the dumps days.
Butt Out follows the story of Baboon, a monkey with an attitude, who decides on page one that Today feels like a good day to be…PANTS FREE! Much to the horror of his well-dressed animal counterparts, Baboon simply will not cover his bottom. Feeling the cool breeze between his butt cheeks is far too enjoyable for Baboon, who struts 'au naturale' from page to page, with an answer for every animal who crosses his path.
With a final exhortation from the protesting animals that "there is a time and a place for many things but now is NOT the time or place for bare bottoms," Baboon finally submits; but not for long…
From the candy coloured front cover to the cheeky resolution, Butt Out is an easy to read with simple text, that would be a riot to share with a group aloud (although parents may not appreciate the repetition of the phrase 'butt out' being shouted by their small children!). There are no deep messages in this tale – it is just a good fun, silly story – and who doesn't need some light-heartedness in their reading repertoire every now and again!
Butt Out is perfect for early childhood collections, for children (especially boys) between 3-8; but check that parents are ok with the frequent bottom references before considering as a gift!
Reviewed by Kay Oddone